Shame of university courses that no one wants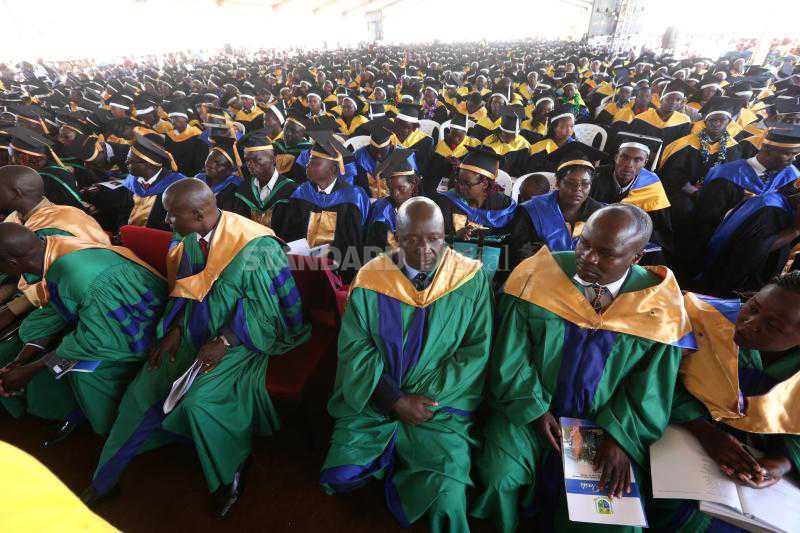 The recent admissions have exposed public universities that offer programmes that few students are interested in.
Analysis of the placement data released by the Kenya Universities and Colleges Central Placement Service (KUCCPS) showed that some courses did not attract any students, raising questions why taxpayers' money should be spent to sustain them. The costs include paying for lecturers and facilities.
The academic programmes include agribusiness management and hotel and restaurant management, which had a total capacity of 130 students, did not have any takers.
Three other programmes with a total capacity of 260 students attracted between one and five students each.
Sad story
The spotlight is now firmly on institutions that have failed to attract enough students to fill even half of their declared capacities.
Turkana University College declared a capacity of 320 in five academic programmes, yet only four students expressed an interest in studying there.
Of the four, three were placed to study for a Bachelor of Education, with one student selected to study social work. The other three programmes - Bachelor of Business Management, Bachelor of Environmental Science, and Bachelor of Development Studies - attracted no students at all.
This means that the two programmes that attracted the four students have failed to constitute the reasonable capacity necessary to inject Government resources.
The sad story of Turkana is replicated in many universities that declared large capacities in various programmes but attracted no students.
Cooperative University of Africa declared 1,840 available spaces in 15 academic programmes. The institution only managed to place 806 students, leaving a deficit of 1,034 unoccupied slots.
Garissa University, which declared a capacity of 1,440 in 22 academic programmes, only attracted 100 students. This left it with a deficit of 1,340 unfilled slots.
Nine programmes at the university with a total capacity of 410 did not attract any students. Eight programmes attracted between one and three students each. Two other programmes only attracted seven students each.
Rongo University declared a total capacity of 2,315 in 36 academic programmes but only managed to get 459 students, leaving a deficit of 1,856 unfilled slots.
Thirteen academic programmes at Rongo University attracted no students at all while 12 programmes attracted less than 10 students for each programme, with some getting only one and three learners.
Taita Taveta University, which declared a total capacity of 2,405 in 17 academic programmes, only managed to attract 518 students. This leaves a deficit of 1,887 unfilled slots. Four academic programmes attracted no students. The Bachelor of Science in Applied Physics programme attracted a single student.
University of Eldoret, which declared a total capacity of 3,870, attracted 1,735 students, leaving 2,135 vacant slots.
Sixteen of the university's programmes did not attract a single student. Another 11 programmes managed less than 10 students, some of these getting between one to three students per course.
Overall, KUCCPS data shows that nearly half of the public universities failed to fill at least 50 per cent of the slots they declared, calling their viability into question.
Other institutions that fall under this category include University of Kabianga with 32.2 per cent, University of Embu (40.9), South Eastern Kenya University (35.1), Pwani University (42.1), Laikipia University (39.7), and Kisii University (42.5).
Machakos University (48.2), Karatina University (46.1), and Jaramogi Oginga Odinga University of Science and Technology (39.3) also attracted few students.
Sources said public universities might not be doing enough to gain the confidence of students who prefer competitive programmes and institutions with solid management.
To fight drought, involve communities
According to the latest information from the Meteorological Department, rainfall will be poorly distributed in April, May and June, and this will have a serious impact on agriculture