University dons vow to continue with strike, to appeal ruling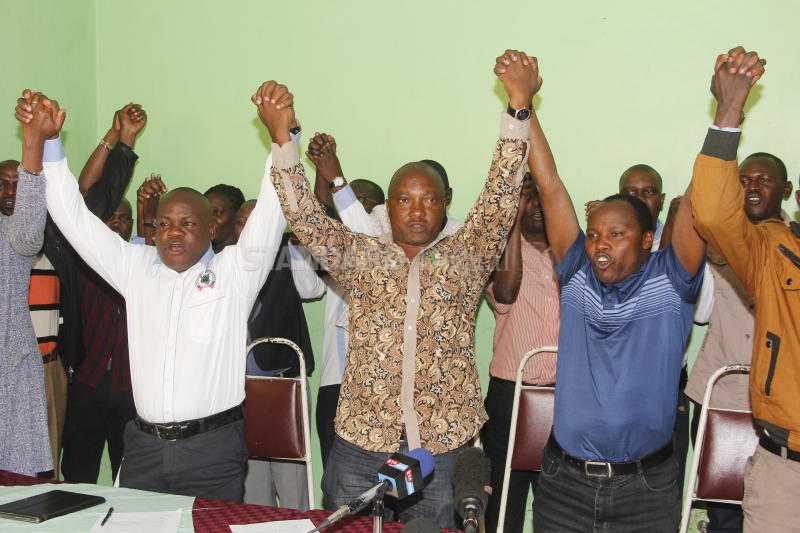 The Kenya Universities Staff Union (KUSU) has vowed to continue with their industrial action accusing the Inter Public Universities Councils Consultative Forum (IPUCCF) of failing to present a counter proposal for their 2017-2021 Collective Bargaining Agreement (CBA).
Addressing the press in Nakuru after a review meeting on the magnitude of the ongoing strike, KUSU officials led by the Deputy Secretary General Aggrey Osogo said that their withdrawal of labour will stand until their employer comes to the negotiation table with an offer.
"The union will not waver in its pursuit for the negotiation, signing and implementation of the CBA. IPUCCF has neither tabled a counter proposal nor made any efforts over two weeks down the line to solve the current crisis," said Mr Osogo.
The unionists accused the employer of attempting to thwart the fight for their rights through misrepresentation by dividing and intimidating them using the courts and other schemes.
"Since 2006 CBA negotiations in public universities have been associated with misrepresentation and nefarious schemes to discriminate and disenfranchise the staff. We strongly condemn the use of courts by the employer to drive a wedge between and among us," said Mr Osogo.
This comes in the wake of a court order issued on Friday directing the lecturers to call off the strike and report back to work by today and the government to give its counteroffer within thirty days.
The Union in its call for its members to intensify the strike across all public universities observed that they are yet to be served with the orders and maintained that the strike is still on.
"We have not been served with any court orders and are not aware of any. We therefore direct KUSU members to stay the course by upscaling, intensifying and escalating the strike until we cause total paralysis on all services in these institutions," said KUSU Treasurer James Makori.
The delay in the delivery of the orders to the union is believed to be as a result of them being issued on a weekend.
Students from majority of the public universities had gone for a break and are expected to report back to their respective institutions today.
KUSU Organizing Secretary Ernest Wayaya however urged the students to stay away from the institutions saying this would save them the additional expenses they are set to incur as no teaching will be going on.