Learning in public universities paralised as lecturers' strike begins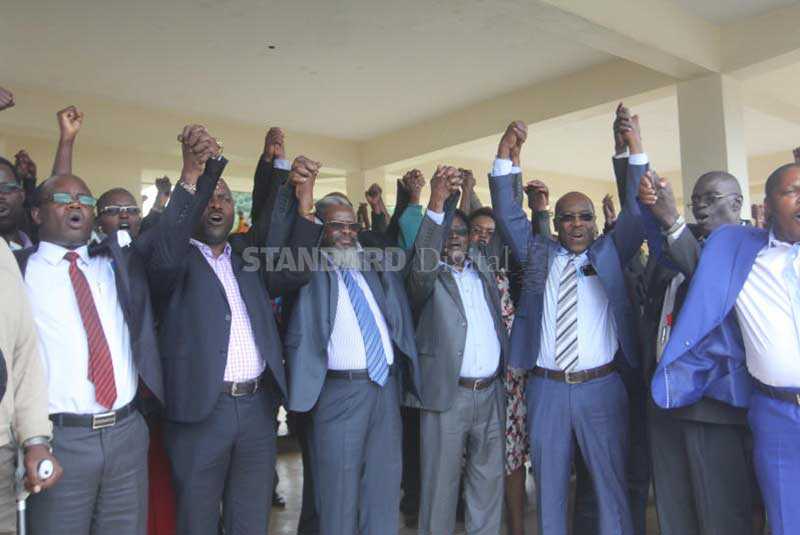 Learning in public universities will from today be crippled after lecturers downed their tools following a pay dispute with Government.
Under the umbrella of the Universities' Academics Staff Union (UASU), the dons had last Wednesday issued a seven-day strike notice to the government which expired yesterday without any headway.
The notice had been over failure by government to come up with a counter offer for the 2017-2021 Collective Bargaining Agreement (CBA) which the government had not tabled by yesterday.
The dons said that industrial action was the last resort as they had exhausted all available mechanisms.
"And so all university academic staff are on strike to demand negotiation, signing and implementation of the CBA," said UASU Secretary General Dr. Constantine Wasonga.
A letter written by Labour CS Ukur Yattani invited UASU to dialogue and appointment of Geoffery A Omondi as a conciliator in the talks.
The conciliator, had written to the parties involved in the dispute on February 26 inviting them for a meeting on February 28.
"Having set in motion the machinery for resolving the matter in dispute, I appeal to parties to give dialogue a chance and I consequently appeal to the union to withdraw the strike notice and adhere to the requirement of the law," pleaded Yattani.
UASU said that if the CS had any goodwill he could have written it before the seven-day strike notice had been issued.
"We are going to negotiate when our members are on the street," he said.
According to UASU the 2017-2021 CBA is supposed to wipe out distortions in the pay structure in public universities as the current agreement does not "encourage scholarship."
Wasonga also said that other public sector employees, in line with a circular by the Salaries and Remuneration Commission in 2015, enjoy car and mortgage schemes which university lecturers don't.
"Why are we discriminated upon? Our members are the highest human resource in this country and you cannot purport or contemplate to employ a PhD holder on contract," he said.
UASU blamed the Ministry of Education and the Inter-Public Universities Councils' Consultative Forum (IPUCCF) for the failed agreement saying at least five opportunities to resolve the tiff had been missed.
"UASU deeply empathizes with our students and the parents who have to contend with the devastating effects of a preventable strike," he said.
"It is the Government and university councils who seemingly do not care about the nearly 600,000 youthful students who will suffer as a consequence of this strike," he added.
UASU also condemned the murder of Meru University Students Organisation Secretary General Evans Njoroge by police on Tuesday.
The dons called on Education CS Amina Mohamed to replace the Meru University Vice Chancellor with immediate effect.