Ministry spells out strict ways how the monies sent to schools will be spent per vote head.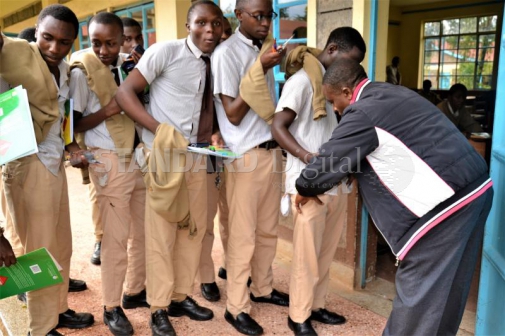 All students in public schools will have their medical covers paid for by the Government.
The Government will allocate Sh1, 999 per child per year under the medical and insurance allocation. Parents will not contribute any monies towards this vote head.
In addition, all school property will be insured to save parents from shouldering the huge losses institutions incur during unrest.
According to the guidelines for the implementation of free day secondary education released by the Ministry of Education, the medical and property insurance vote head will take care of group emergency cover injuries, accidents and last respect, emergency drugs, first aid kits and medical cover for students.
Currently, schools have their own medical and insurance arrangements.
The details emerged as the Government announced increased capitation per child by Sh9, 374 per year.
This brings to Sh 22,244, the total amount the Government will now release per child per year in all secondary schools.
This means that the day schools fees will be fully catered for while boarding schools are set to charge a between Sh40,000 and Sh53,000.
The document says that parents will only be required to buy school uniforms for their children, meet lunch costs and boarding-related levies.
Sources familiar with the details said the Ministry will from next year keenly monitor learners' medical cover and schools insurance plans.
The guidelines further reveal that firms identified with the support of the Insurance Regulatory Authority will insure all schools properties.
A Ministry of Education report released this year finds that last year alone, 483 incidents of student unrests were reported.
Medical and insurance covers are among the many vote heads that the government will subsidise in secondary schools.
The guidelines seen by The Standard lists all the vote heads and allocates the amount to be paid by the Government and how it shall be utilised.
The key vote heads are teaching and learning materials, repairs and maintenance, local travel and transport and all administrative costs of schools.
Electricity, water, activity fees, personal emoluments, medical costs and insurance have also been listed.
Strict ways
A finer look at the details reveal that the ministry has spelt strict ways how the monies sent to schools will be spent per vote head.
Administrative costs vote head will strictly cover office stationary, communication and postage, telephone bills, printing of receipts, cash books, Local purchase orders, ledger books and non-teaching staff uniforms/equipment.
The money will also be used to service machines, letterheads, internet, bank charges, annual general meetings, prize-giving days and medical examination of food handling staff.
Local transport and travels vote heads will cater for travel and accommodation for school management officials, teachers, vehicle maintenance and educational tours.
The repairs and maintenance vote head will cover school, improvement such as paints, nails, cement, repairs of desks and chairs, window panes, lawns mowers, repair of roofs, fences, brooms, drainage.
Vote head
Electricity, water and conservancy vote head, according to the guidelines, will cover the utility bills, sewage plumbing, boreholes, electrical fittings, solar panels, maintenance, fuel, emptying septic tanks and purchase of gas.
And the personal emoluments vote head will take care of monthly salaries and allowances, social security, NHIF, service gratuity for non-teaching staff and work injury benefits.
In addition to these, each student will be issued with a receipt that reflects the amount of money send to the learner by the Government.