Panic as Matiang'i plans raid in schools following recent fire incidences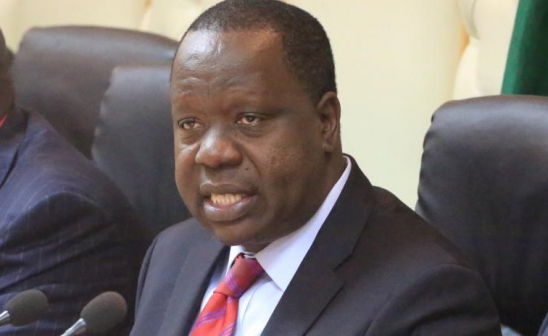 Panic has hit public primary and secondary boarding schools as the Ministry of Education plans a major crackdown to check compliance with safety guidelines.
The ministry is lining up field officers to make impromptu raids to check the level of compliance in schools.
It emerged that some school boards have prepared a check list to assess their institutions' compliance before the inspectors arrive.
Fault finding
This comes in the wake of a tragic fire at Moi Girls High School Nairobi in which nine students died last Saturday.
Secondary school heads Friday pleaded that the crackdown should not be a fault-finding mission and requested to be allowed time to make proper reports to Boards of Management.
"The inspection is good. However, the exercise should be an ongoing process because the safety standards go beyond dormitory specifications," said Kahi Indimuli, the Kenya Secondary School Heads Association chairman.
Indimuli said monitoring of compliance should be a continuous and advisory process.
"We hope it will not be a fault-finding mission. Principals should be allowed to take audit and table reports to the boards because there are financial implications to compliance," he said.
Sources at the ministry Friday revealed that schools that have not complied with the School Standard Safety Manual will be put to task to explain why they are yet to implement the guidelines.
"School boards will be put to task to explain why they have overseen flouting of the safety guidelines," said the senior ministry of Education official.
The 2008 School Standard Safety Manual has listed a raft of requirements that all boarding schools must adhere to.
According to the document, door keys must always be kept by the dormitory master or mistress or the dormitory prefect.
The safety standards manual requires that all boarding school dormitories must have a door at each end and an additional emergency exit at the middle.
The exits must clearly be labelled "Emergency Exit".
The manual further requires all doorways must be wide enough, at least five feet wide, and should open outwards. The dormitory windows must be without grills and should be easy to open outwards.
The guidelines, which only a few schools have complied with, also requires that the space between the beds be at least 1.2 metres. The corridor or pathway space between beds should not be less than two metres.
Security guards
Education Cabinet Secretary Fred Matiang'i last week said the ministry had implemented some proposals made by the Special Investigations Team he set up last year. He said about 11 recommendations of the Claire Omollo report have been implemented.
The team recommended that schools employ adequate, vetted security guards with basic security skills, erection of 24-hour CCTV surveillance, acquiring sniffer dogs, metal detectors and adequate security lighting.
Chebukati: IEBC ready to handle election
The Independent Electoral and Boundaries Commission (IEBC) has embarked on preparations for the October 17 presidential elections despite bickering within commission.