Poll: Kenyans laud free learning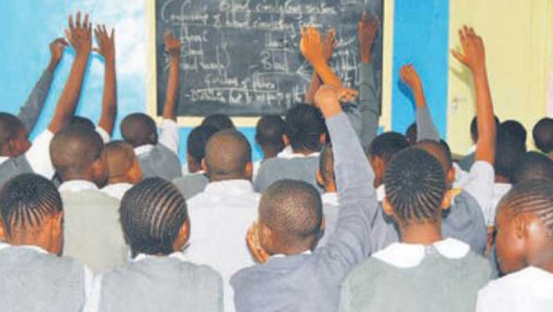 Half of Kenyans believe the quality of education has improved since the introduction of Free Primary Education, a new report shows.
According to the poll, 47 per cent of sampled Kenyans said since public primary schools became free for all, the quality has become better. Free Primary Education has been running since 2003.
Some 28 per cent said the quality has remained the same while another 25 per cent said the quality has deteriorated.
The Twaweza 2017 Education report cited teacher shortage as the main challenge facing public schools since they became free.
Releasing the report, the Twaweza East Africa Data and Voice Director Dr John Mugo said 56 per cent of Kenyans polled said teacher shortage was the major hindrance to provision of quality education.
Lack of books
Lack of books ranked second with some 20 per cent identifying with it. And 11 per cent identified few classrooms as six per cent said inadequate funding by the government.
The survey was carried out between August 15 and September 6, 2016. Some 1,780 respondents were contacted. On funding, nine out of ten citizens polled, said they are not aware how much money the government allocates per child for Free Primary Education (FPE).
The report finds that only three out of 100 Kenyans said the government releases Sh1,500 per year, per pupil.
Shockingly, 71 per cent of citizens interviewed said they are not aware whether FPE funds arrived at their local school.
Probably, the ignorance is a result of another finding that shows only one out of four citizens have visited their local primary school to ask about general school finances.
School heads transparency
"A majority of those who visited said they received the information they were looking for, while about one out of five said they did not," reads the report.
The report also casts doubts among parents on school heads' transparency on public funds sent to the institutions.
"Though majority of the parents who visited their children school to ask about finances and expenditure were given the requested information, six out of 10 citizens believe that the head teacher in their local school would not share this information if they asked for it," says report.
The report however returns a favourable verdict on parents' involvement on their children's learning.
"Eight out of ten parents visit their children's schools and discuss their progress with teachers at last once per term."
About half of the parents help their children with academic work once or twice a term or less while at home.
Overall, parents with at least a primary level of education are more engaged in their children's school lives than those who have no education, say report.
"Despite relatively low levels of engagement with schools, a significant majority of citizens –89 per cent– feel that they have a role to play in improving education.
Mugo said citizens have spoken with a strong voice about education.
High level ignorance
"Although they recognise the challenges facing the sector and see an improvement in quality since the introduction of Free Primary Education, huge numbers are voting with their feet and taking their children to private schools," he said.
He said parents with children in public schools are largely disengaged with how schools are managed.
"Parents are the first and primary guardians of our nation's children. If they are not playing their role at home and not holding schools to account for resource use and performance, then we have little hope of improving our education system in the future," said Mugo.
He said all couldn't be left to the national government.
"Although they have an important role to play in overseeing school management and ensuring basic standards, it is us individual parents who must push harder and further to get the best for our children."