Girls fear examinations more than boys, study says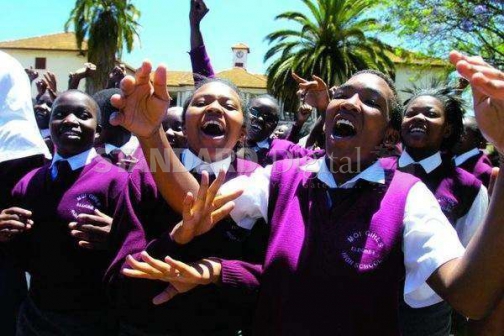 A new education report has revealed that girls fear sitting examinations more than boys, with anxiety for the tests affecting academic performance of both.
The international report released on Wednesday also links teenagers happiness, parents and teachers support to learners' good performance in national examinations.
The Programme for International Student Assessment (PISA) 2015 report also reveals that at least one student in every class reported cases of bullying, with stern caution to governments to address the vice.
The study was conducted by the Organisation for Economic Co-operation and Development (OECD). PISA is an international survey, which aims to evaluate education systems worldwide by testing the skills and knowledge of 15-year-old students.
First time
The 2015 findings are based on a survey of 540,000 students in 72 participating countries and economies in three subjects; science, mathematics and reading.
PISA 2015 results, for the first time, has analysed students' motivation to perform well in school, their relationships with peers and teachers, their home life and how they spend their time outside of school.
The participating students took an internationally agreed two-hour test on the subjects. The report findings are, however, timely and relevant to Kenya and are likely to inform policy directions, coming at a time the country is rolling out the trials for the envisaged new curriculum.
The report reveals that many students are very anxious about school work and examinations, with girls more fearful than boys.
"It says that on average, more than half of students surveyed reported they often worry that taking a test will be difficult," reads the report.
A shocking 66 per cent of the students reported they feel stressed about poor grades with 55 per cent saying they are very anxious for a test even if they are well prepared.
"In all countries, girls reported greater schoolwork-related anxiety than boys and anxiety about schoolwork, homework and tests is negatively related to performance," reads the report.
The findings come at a time when Kenya is reforming the current education curriculum that lays more emphasis on summative cutthroat examinations.
Education Cabinet Secretary Fred Matiang'i will today launch the national trials of the new curriculum that is scheduled to start on May 29.
A total of 470 primary schools have been selected to champion the pilot, a process whose findings will inform the national roll out of the exercise.
Senior regional education co-ordinators will attend the launch of school heads training that also marks the start of stakeholder's engagement anchored on consultative approach and consensus building.
Further details of the report show that bullying is a major issue in schools, with a large proportion of students reporting being victims.
Positive relationships
"On average, around four per cent of students, roughly one per class reported that they are hit or pushed at least a few times per month," reads the report.
It says bullying is lower in schools where students have positive relationships with their teachers.
"Parents need to be involved in school planning and responses to bullying and schools need to collaborate with other institutions and services to put in place comprehensive prevention and response plans."
The revelation corroborates the findings in top Kenyan national schools that are struggling to contain the vice.
Already, leadership changes have been effected in Alliance Boys and Maseno School.
Overall, the report reveals a major link between students' happiness and good academic performance.