Is education a hopeless investment? Desperate tales of jobless graduates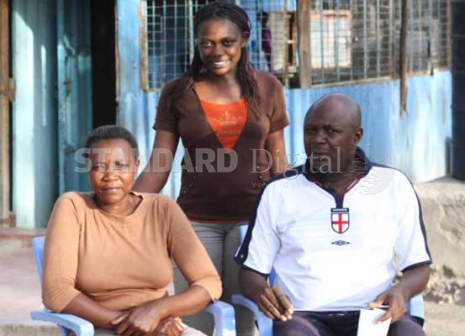 Education is one of the biggest investments in Kenyan households, but the returns are not always commensurate if the current unemployment rate is anything to go by.
Some time back, Bridget Maria Lubia was in the spotlight when she carved herself a place among top candidates countrywide in the Kenya Certificate of Primary Education exams. With this news, a promising future beckoned.
Most elated was her father who held that her daughter was destined for one of the few coveted careers in Kenya and a matching grand life. However, her father's hope of getting a fresh breadwinner for the family are fast diminishing following successive snubs from potential recruiters.
Ibrahim Lubia, a clerk at a Nairobi-based law firm now holds humbly onto a piece of paper he cut from the newspaper that documented his daughter's splendid results in the national exams. He recounts the unparalleled heartache of seeing his daughter hit the road every day in search of a job that is not forthcoming.
"It is painful to see my daughter go through daily frustration because of lack of a job, especially after she worked very hard in school. It is only fair that she lands a decent job that befits any hardworking person," he says.
Lubia narrates that his daughter's impressive performance at Kibira Primary School earned her full sponsorship at a national school where her colours shone even brighter. Bridget joined Starehe Girls Centre, which had always been her dream school, and scored an A of 81 points in Kenya Certificate of Secondary Education exams before joining Kenyatta University where she pursued a Biochemistry course. Her choice course was Medicine but a B+ in Chemistry cost her the entry requirements for the course. This, according to Lubia, prompted her to seek career advice on the choice of the course to pursue at university.
"We paid money to career advisors at one of the most prominent universities in the capital to listen to their advice. It is they who advised my daughter to study Biochemistry though I was against it." Lubia adds that he was of the opinion that his daughter studies Law that she not only qualified for, but also one he reckons has more job opportunities compared to Biochemistry.
The father of four attributes his daughter's frustrations to misguided career advice that isn't informed by the current job situation in Kenya.
Vultures on the prey
"Teachers and career advisers have no genuine interest in the students when they advise them on the courses to pursue. First, they should understand the job situation in Kenya. If not, such advice should be left to parents as it is a parent who bears the brunt when their children end up jobless," he argues.
Now unemployed, Bridget has resorted to doing odd jobs including selling at people's kiosks. She has also taken up the responsibility of looking after her 11-year-old brother who has cerebral palsy. According to Lubia, her daughter always hoped to take over the care of her brother's condition once she acquired financial stability.
Brigit has also fallen prey to recruiters who suck her skills for no pay.
"Since June 2016, my daughter goes to work for a research institute in Karen that only offer her empty promises of employment. I have to give her a fare and lunch allowance daily from my meagre salary," explains a distressed Lubia.
The 51-year-old who has worked for over twenty years reveals that he has to keep up a life for his family in Nairobi on a 30,000 shilling salary. Though he has a lot to do to fend for his family which stays in Ruai, he has never left her daughter to her devices in the arduous job search since she graduated in 2015 and urges other parents to help their children to search for jobs.
"I never let any day pass by without buying a newspaper to peruse all the job sections. My ears are always on the ground in case any opportunities come by. I always want my daughter to feel that she is not alone in the search for a job."
Mr Lubia expresses his worries that her daughter is getting immensely frustrated as days of what seems a futile search go by, a pain he says parents with unemployed children know all too well.
"It is worse when the jobless child is a girl since girls have a lot of material and emotional needs that a parent may not fully understand and fulfil. I thank God that I have a straightforward daughter who has never given in to her frustrations to engage in immoral activities to look for money."
Mr Lubia observes that it is such frustrations from joblessness that make youth an easy target of precarious groups such as Al Shabaab and immoral activities frustrated in their search for a livelihood.
In another part of the city in the sun, another Nairobi dweller steps out of a roadside café and walks languidly towards the adjacent building which houses the offices of the firm he works with. His lunch break has just ended.
Elishama Jumbo has been working as a driver at Kaeser Compressor located along Mombasa Road for close to 30 years now. For him, nothing would be more gratifying than retiring to enjoy a long rest with his family. He, however, thinks that giving up work would be a perilous move since he has no one to take up the role of a bread winner once he decides to call it a day.
Bitter responsibility
The 64-year-old father of three still spends his life on the road toiling for his family that has grown to include grandchildren. None out of his children, despite having impressive papers, is better placed to take up the financial burdens of the family.
"I paid for my daughter to pursue an expensive course in Craft and Design. And now, since 2007 when she graduated, she has nothing to show for her papers," Jumbo laments.
He adds: "I always had big hopes with my daughter and did not even think twice before taking her to Machakos Girls where I used to part with close to Sh60, 000 every year. All the while, I relied on loans and led a hard life."
He says that his daughter, out of frustration from unyielding job search efforts got married to a poor family and has problems taking care of the child she bore. She eventually left the baby in its grandfather's care.
Jumbo relates his untiring involvement in the search of jobs for his children but note that his efforts have always been met with rejection.
"I have met people who asked me to share my children's papers with them, but end up disappearing into thin air. I don't think it is about who you know out there, but the class you belong to," Jumbo says.
He says that it is equally frustrating to a parent, as it is to a jobless youth, to have ones child sit idle in the house even after completing tertiary education.
"It is a bitter responsibility giving out some money to your jobless child since they have needs too. You can't watch them find alternative sources of money when they are not employed."
About children sitting idle after school, Evans Ayumba, the director of Liberty Care Centre in Mlolongo has a different view.
"We encourage our children here at the centre, especially those in university to be volatile job seekers so as to motivate the younger children to work hard and escape their difficult lives," he says.
Ayumba points at Sammy Asese, Shalom Naomi and Daniel Adera who are already pursuing different courses at top universities in Kenya and says that the three are willing to help at the centre when they graduate from university. Asese is studying Electrical Engineering at Moi University while Adera is pursuing BCom at Daystar University. Naomi is a student at KCA University in Thika.
Vulnerable most affected
Elsewhere in Nairobi, a widow has to watch her son grapple with redundancy even after going through a series of trainings to position himself better in the job search.
Theresia Wanzuu, a small scale farmer in Makueni calculates a sum of hundreds of thousands that she has spent on her son's education only for him to come back home empty handed. "When I lost my husband, I spent all the money and energy I had in educating my only son hoping that it was him that would rescue me out of poverty," she laments.
Francis Kasanga sat KCSE in 2005, managing to score grade B. Four years later, he got an opportunity to join the National Youth Service where he trained for an additional four years and qualified in Accountancy in 2012. Since then, the 30-year-old is still stuck with her mother in the village.