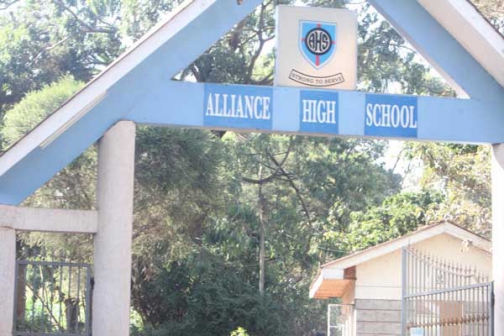 Parents at one of the oldest citadel of education in the country, Alliance High School, were outraged yesterday as they returned their children to school in the wake of chilling bullying reports.
There was tension at the institution, which has for decades symbolised discipline and academic excellence as the board of management met teachers in a closed-door meeting to unravel the bizarre reports of bullying attributed to some prefects, which was likened to torture.
This was happening at a time Education CS Fred Matiang'i ordered a nationwide probe into bullying after the Alliance shocker. He warned principals that they will be held personally responsible for bullying cases in their schools. At Alliance, the board met the teaching staff and later held a joint session with students and teachers, just a day after a Ministry of Education report exposed harrowing tales of bullying.
At the end of the two meetings, at least 10 prefects and captains who oversaw the acts were demoted and vetting for the remaining students launched. The fate of teachers in charge of discipline remains unknown. By last evening, police officers were in the school investigating the matter. Parents who spoke to The Standard yesterday expressed shock at the revelations, with some saying they would transfer their children to other institutions. Sources indicated the board read the riot act to teachers and vowed to restore the school's lost dignity.
Questions were raised on what made the former school principal David Kariuki leave. Mr Kariuki had said he was leaving to pursue other interests but the timing casts doubt on what could have triggered his premature exit. He has remained silent and unavailable to the media.
Read More
The parents' collective anger and disbelief was captured in the words of one father, Joseph Ogutu, who had thin beads of sweat as he tried to come to terms with what happened to his son only eight weeks into high school.
"When the boy came back home for the half-term break, he had a torn sweater. I asked him what had happened and he told me the 'cops' pulled him. Another boy who was at home with us laughed and said those are prefects," he said.
But the magnitude of the 'pulling' did not hit Dr Ogutu until yesterday.
"When we heard in the news about bullying, I asked him to tell me what happened. And he told me, 'Dad I was beaten and asked to lie on the graves at 4am'," he said.
The acting dean of School of Business at Scott University was shocked by what his son, who scored 415 marks in last year's KCPE exam, had gone through.
"I am very infuriated. When I came today I wanted to get hold of somebody because that is cultic. If your own child were forced to lie on a grave, what would you do? It is spiritually and emotionally assaulting them," he said.
"I am a very disappointed parent. But as you can see, I have no one to talk to for explanation. It is sad I want to leave my boy here with many questions deep in my heart."
The story was corroborated by a guard who told The Standard: "Enyewe hawa vijana wamekuwa so powerful hadi wanachapa fellow students. Mimi nilisema kama ni kijana yangu haki nitachapa hao pia (The prefects are so powerful that that they even cane fellow students and I once told myself that if they caned my child I would also beat them up)"
He said: "I think with these revelations parents can now resolve these issues."
Interviews with students echoed the guard's sentiments.
"When we came here we were so excited that we had joined a big school, the best in the country but many of us were so disappointed but we cannot tell our parents," said a Form One student.
He said the bullying had tormented many students.
"One of my classmates said last week that he would not come back to school. I am waiting to see if he will come back today," he said.
Another parent who declined to be named said her Form One son came with a blood-stained shirt.
"I never thought deeply about it because I know he is obedient. I have come to know that I am a poor parent who cannot realise imminent death of my child," she said.
The Standard came face-to-face with the reality of the shocking tales just a day after a Ministry of Education's quality assurance report unearthed the rot in students' leadership.
According to the report, one of the students narrated how 'house committees' and prefects subjected them to traumatic experiences during what the report terms 'induction nights and action nights'.
"During action nights you are woken up by house committees and prefects and taken into the ironing bay where you are given all kinds of torture, including strokes," said a student.
"I have seen with my own eyes boys being beaten by 'makarao' and house committees. We spent countless nights scrubbing toilets with belts flying on my back. (If) these people could know what goes on at night in this school they could wonder," another student said.
And another said: "We were chased around the school with whips and belts by the prefects. Some of us were injured. And early in the morning we were woken up at 3am to lie on the graves of the honourable deceased," reads the report.
The same students said: "We were forced to pray to some of them (deceased), they (prefects) told us to say: for what we are about to receive we thank you the 'bupungu' and 'chengoko' amen.
The school has produced senior Government officials, top politicians and chief executive officers.
Former Attorney General and current Busia Senator Amos Wako, Kikuyu MP Kimani Ichung'wa, Kenya Bankers Association boss Habil Olaka, Pan Africa Insurance Holdings Ltd Group Chief Executive Mugo Kibati, Centum Investments managing director and chief executive officer James Mworia are some of them.
School alumni who spoke to The standard yesterday said they were so embarrassed to be associate with the school.
Mr Ichung'wa yesterday said: "At no one time did I witness or even hear of a student being bullied the entire four years I was at Alliance high school."
The lawmaker who left the school in 1991 said he was a senior prefect in charge of discipline.
"I was also the captain of The Smith House. But we had a clear method punishing students it was not through beating," he added.
Ichung'wa said prefects only punishes students for light offences.
"We would have them make laps round the field, slash grass, water flowers, or weed gardens around their dormitories," he revealed.
He said only the principal and deputy principal were allowed to punish students for bigger offences.
"They would be taken to the school farm to collect eggs, clean the pig sty or such kinds of things. But if it was a major offence, they would be caned by the principal or suspended," he said.
Another former student, Habil Olaka, said between 1979 and 1984 there was good coordination between students and prefects.
"What we are hearing is unfamiliar to us. During our time there were two types of punishment. (One was) the collective one where students were taken for manual work such as cleaning. But this only happened during weekends," he added.
He said the second type of punishment was called "gating" where students would be asked to report to a specific administrator during specific intervals.
"If you were to see teacher A by 11am, you would be asked to see teacher B at exactly 12 and so on... this was effective because it happened over the weekend and it barred you from engaging in other things that you would have otherwise wished to do," he said. Ichung'wa and Olaka yesterday said the mess at Alliance must be cleaned.
"The ministry must ensure that whatever happens at the school the old boys have a say on who becomes the principal because there is a tradition that new people brought in never understand," he said.
"Evening preps were conducted between 6.50pm and 8.45pm. Only Form Fours were allowed to leave at 9.15pm. By 9.45pm it was all quiet," said Ichungwa.