UoN VC Peter Mbithi cautions students and staff to keep off party politics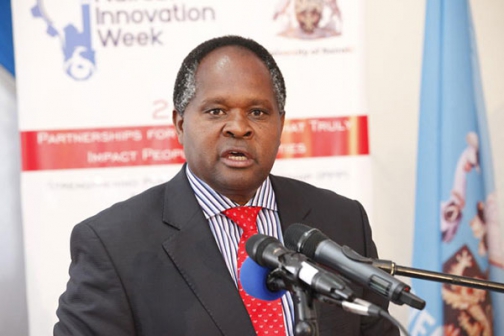 University of Nairobi Vice Chancellor Prof. Peter Mbithi has cautioned students and lecturers against participating in political activities or risk being expelled from the University.
Prof Mbithi said the University does not allow partisan politics in the academia.
"We are going to resist very firmly both our staff and students (engaging in active politics) because that is what is good for the university. We remain apolitical, and pursue academics. We shall do our best and we shall succeed," said Mbithi who was speaking during the new student orientation ceremony at the University main campus.
Responding to how the university will deal with politicians involving students in campaigns in and out of the learning environment Prof. Mbithi said: "We all know this is a political year but remember that University is a learning institution not a political institution and if you want to engage in politics while still a member of this institution then think twice because we as the institution will not welcome you here."
Prof. Mbithi disowned a recent opinion poll conducted and executed by two professors of the University sponsored by Cotu Secretary General Francis Atwoli. The poll showed ANC Party leader Musalia Mudavadi as the most popular Luhya Leader.
He maintained that the university only serves the government of the day. "We shall not play party politics," he maintained.
The VC said, dons engaging in politics only do so in exercising intellectual exercise, and when they do so, they only express their own views, not that of the University.
"We believe it's good for staff to stimulate their minds in the society to inspire them, but that does not necessarily represent the views of the vice chancellor or that of the University of Nairobi," he noted.
More than 4,000 students joined the University having been given offers through the Kenya Universities and Colleges Central Placement Service (KUCCPS).
"If you choose to work hard we shall support you make your dream come true but if you choose the other path then be ready to waste the four years that you will be here, the choice is actually yours," warned the VC.
Mbithi has also cautioned the students on their dressing code.
"You must dress decently which is within our university policy, we all know that we strive in ensuring that we create a better society for all," says Prof. Mbithi.
The university is expecting another batch of students to report before the end of the month.