Exam cheats face 10-year jail term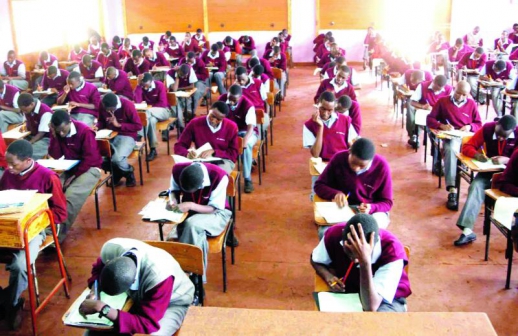 Examinations authorities are pushing for enforcement of laws that will land exam cheats a jail sentence of up to 10 years.
This is part of reforms introduced to contain examination fraud. It will be a stiffer penalty compared to previous years when cheats would only forfeit their results.
The tough new guidelines were released yesterday, ahead of the November 7 start of the Kenya Certificate of Secondary Education (KCSE) examinations.
The rules presented by Kenya National Examination Council (Knec) acting CEO Mercy Karogo target candidates, invigilators and examination administrators.
"Any person who gains access to examination material and knowingly reveals the contents, whether orally or in writing, to an unauthorised party, whether a candidate or not, will be in violation of Section 27 of the Knec Act and the penalty will be imprisonment for a term not exceeding 10 years, or a fine not exceeding Sh2 million or both," reads the guidelines.
Those who impersonate legitimate candidates have also been warned and can be sentenced to a two-year jail term or fined Sh2 million, or face both penalties, while those who damage exam material can be fined Sh5 million or be jailed for five years.
If the imposter is a student, the penalty will be severe — the student will be prohibited from taking an examination for three years.
"Please ensure you do not commit any examination irregularity to avoid having your results cancelled," said Ms Karogo.
The tough measures come as part of the broader reforms in Knec aimed at restoring credibility of the national examinations.
Part of the measures announced by Education Cabinet Secretary Fred Matiang'i to detect cheating was that Knec would appoint school principals and head teachers to be in charge of their examination centres.
He said the principals and head teachers will be assisted by 'carefully selected supervisors.'
The CS said Knec would identify senior officials and responsible teachers to be supervisors and invigilators of the national examinations.
"Together with boards of management of their schools, these officials will take full responsibility and accountability for any exam malpractices that may be reported in their centres," Matiang'i said.
The council also cautions candidates against any form of communication within or outside the school compound, and noted any form of misbehaviour by candidates would be treated as an attempt to cheat.
Candidates who carelessly expose their examination answer book will also be punished.
"Do not leave a sheet of paper you have written on or your answers in such a position that another candidate can read them. You should not give or obtain unfair assistance, or attempt to do so, whether by copying or in any other way, and your work should not show proof of such unfair assistance," said Karogo.
Sources at KNEC said this year's examinations papers will bear enhanced security marks to prevent cheating.
Candidates who prepare short notes and carry them to the examination room have also been warned.
They will not be allowed extra time while sitting and unnecessary movements by candidates in and out of the examination room will not be allowed, except with special permission from the supervisor.
And candidates caught with mobile phones or electronic devises will have their results cancelled.
Last year, KCSE examination results of 5,000 candidates were cancelled over cheating.