Teachers issue fresh strike threat over delayed talks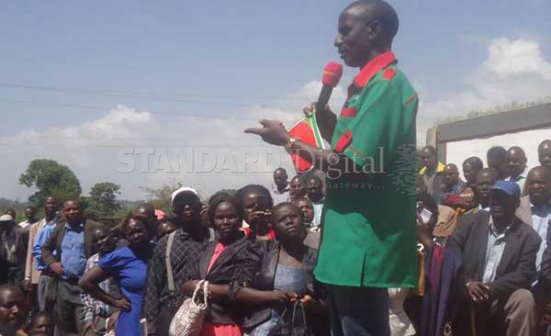 Teachers have threatened to paralyse learning if their employer fails to convene a meeting to negotiate salary increment.
Speaking in Kapsokwony Boy's High School during the Kenya National Union of Teachers Mt Elgon branch elections, Secretary General Wilson Sossion gave the Government up to February 27 to fulfill its promise.
"Our employer, TSC (Teachers Service Commission), is not being realistic. The court gave us three months to negotiate but up to now there is nothing and we will launch the mother of all strikes if the time allocated to us lapses. We need money and nothing else," Mr Sossion said. "It is a pay increment or teachers will paralyse learning in public schools through another strike."
Sossion lashed out at TSC for failing to convene a meeting to discuss the collective bargaining agreement, which includes a basic salary increment of 50-60 per cent that if agreed upon can be spread over a certain period.
He said they would not offer any ultimatum for the strike unless TSC failed to convene a meeting.
"Teachers will only work hard when TSC agrees to pay them well. Teachers do donkey work and they need good payment to facilitate their work, that is why we need enough money to cater for their daily upkeep and a sustainable development agenda," he said.
During the elections, Stephen Chemonges the incumbent Knut branch executive secretary retained his seat after beating Fred Kinjo. He got 560 against against Mr Kinjo's 220.