Why Kenyan parents prefer low cost schools to free education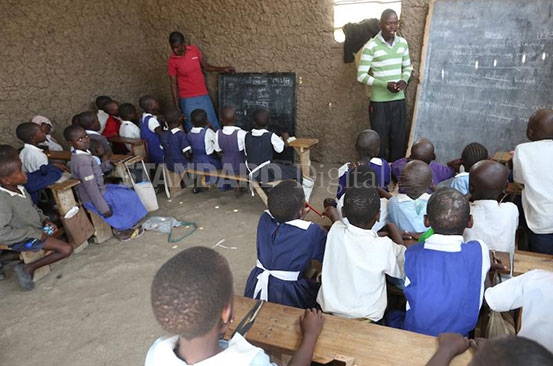 Government's inability to match growing demand for education with human resource and infrastructure development is gradually eroding the impact triggered by the Free Education Programme (FPE) launched 13 years ago.
An increasing number of parents are now resorting to low-cost schools to meet rising expectations. New research findings show that at least 47 per cent of school going children in Nairobi, Mombasa, Kisumu, Eldoret, Nakuru and Nyeri have left government (public) schools for informal schools in low-resource settlements despite the state backed free learning.
Concerned about low quality and access to learning in public schools and deterred by high costs in formal private schools, parents are withdrawing their children from public schools in preference to low-cost informal schools in densely populated areas and slums. This is despite Jubilee government's reassurance of free laptops or tablets to promote e-learning. The findings by the African Population and Health Research Centre (APHRC), published early this year, show that proliferation of low-cost informal schools and escalating insecurity in informal settlements are gradually eroding confidence in public schools.
The study conducted in Nairobi, Mombasa, Kisumu, Nyeri, Nakuru and Eldoret also brought out the socio-cultural trends that determine how parents make decisions on quality of education they want for their children.
Spurred by the "cheap-is-expensive" mantra, parents and guardians in poor economic settings invest in their children's future as they give the often overcrowded and overly under-resourced government-aided schools a wide berth.
The parents, who the report says cannot afford formal private schools, prefer informal low-cost schools in informal settlements because the student-book ratio is even and teaching is relatively student-based.
The parents' preference to informal schools is informed by security and well-being of their children and availability of Early Childhood Development component, which most public schools lack.
Titled 'Quality and Access to Education in Urban Informal Settlements in Kenya', the report is an indirect study of the incongruence between political rhetoric and thirst for quality of education, which the study says is on the down-spin in public schools.
Those polled are of the view that the government provides computer laboratory for every school as an alternative to every pupil a laptop or tablet. The laptop programme for schools, which has since stalled was one of Jubilee's flagship projects conceived before the 2013 elections.
Although it does not directly address the impact of political rhetoric on quality of education, the reversals in public school enrollment, the findings leave no doubt that the promise of e-learning has done little to encourage enrollment and retention in government-maintained schools.
It is the perception of low-cost quality education in low-resource settlements in Nairobi, Mombasa, Kisumu, Nakuru and Eldoret that is the trigger for scramble for education.
It says, "Overall about 47 per cent of primary school children in the informal settlements in the six towns attend non-government schools. However, comparison between towns show significant differences across study sites. In three of the six towns (Mombasa, Nairobi, and Eldoret), more than half of the children living in informal settlements attended non-government primary schools."
The survey conducted in 230 schools distributed as 89 public, 94 formal private and 47 low-cost schools also involved 671 math and language teachers for early childhood education, lower primary and upper primary. The findings are based on population of 15,030 pupils from 5,854 households.
The study also brings out another unspoken aspect of education: the proliferation of low-cost informal schools and private schools (often referred to as academies) as a direct consequence of the inability of the ministry to oversee the sector.
The Ministry of Education does not keep tabs on what happens in these institutions until there is a problem, for example when parents complain about funds embezzlement.
"Although the introduction of the free primary education policy led to dramatic increase in enrollment, provision of adequate school places in densely populated urban areas as well as delivery of quality primary education remains a challenge," the report says.
The data collection for this study was carried out in 2012 in Eldoret, Kisumu, Mombasa, Nairobi, Nakuru and Nyeri.
The survey reports: "Quality of education continues to be an important consideration in parents' choice of school. On average, perceptions of the quality of learning and teachers' performance were similar across all the sites. Overall, parents perceived that the quality of learning and teachers' performance was higher in private schools than in government schools."
Safety concerns
"Towns with larger slums have inadequate government schools hence the proliferation of non-government schools whose direct fee-charges are slightly higher than those of government schools," according to the study.
It further states: "In large urban informal settlements such as those in Nairobi, Mombasa and Eldoret, more than half of the children attend non-government schools. In addition, safety concerns for younger children and availability of Early Childhood Development centres close to 'home' attract parents to non-government schools."
The study notes that the higher performance in literacy in low-cost schools in Nairobi is in part explained by greater availability of learning materials – specifically textbooks – supplied by development partners in low-cost schools. This supply of textbooks has enabled these schools to achieve a 1:1 textbook ratio compared to 2:1 in both government and formal private schools.
The learning materials are donated by well-wishers through non-governmental organisations involved in the maintenance of the schools.
Health officials consider using vaccine to tame cholera
As county directors of health and national government health officials meet Thursday next week on the response to cholera outbreak that has affected 10 counties, one of the top agenda is the possible use of oral cholera vaccine to prevent further spread.