It's last minute back-to-school shopping for Kenyan parents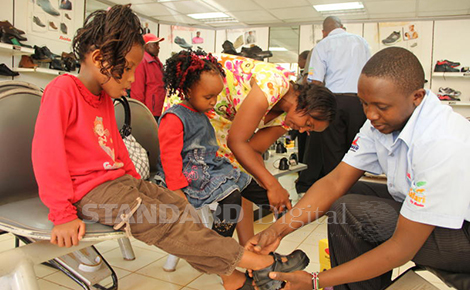 An shoe shop attendant in Nyeri helps Nancy Njeri,6 to fit a shoe as her mother Monica Mburu assists Seraphine Wairimu,3 as they prepare to go back to school next week. PHOTO: JOHN GATHUA/ STANDARD.
NAIROBI: It was rush against time as parents in Mombasa thronged shops to buy books and uniforms in preparation for the opening of schools on Monday.
Hundreds of parents moved from one shop to another to buy books and stationery for their children even as they remained unsure whether schools will still be opened following threats by teachers to go on strike.
The Kenya National Union of Teachers has issued a strike notice that expires on Monday over salary increment. Friday the parents association obtained a court order barring teachers from going on with their plan to strike.
"We are not sure whether there will be school on Monday but we are getting the kids prepared just in case the strike is called off," a shopper told The Standard on Saturday.
Ms Selina Maitha, whose four and half year old daughter is going to Kindergarten 2 at Nyali Primary this year, complained that prices of books and other school accessories had shot up compared to last year.
"We had done shopping way before Christmas but we left out some items. We hope schools will open on Monday," said Maitha.
Some shoppers had done their shopping before Christmas and New Year festivities to beat the last minute rush.
Others said they were forced to dig deeper into their pockets given that prices had gone up. "Shopping has become expensive. Right now I am buying uniforms for my son who is going to class five and the amount I have spent is more than I did last year," said Peninah Mbula.
"Some boys will need to go back with their old uniforms to school and we will get them new ones later," she said.
Shop owners said there was a drop in business as many parents complained of high prices.
James Mwadime, procurement and supplies head at Mombasa Uniform Ltd said the cost of uniforms had gone up following an increase in the price of raw materials.
"Cost of uniforms has increased following the rise in cost of raw materials like cotton," he said.
Business has also been slow with many parents shopping for basic items like school uniform and books leaving out what is considered luxury.
"Last year was tough. But we are hoping for a better 2015 and that schools will open without any interruption," said Mwadime.