Raila Odinga asks Yale University to open campus in Nairobi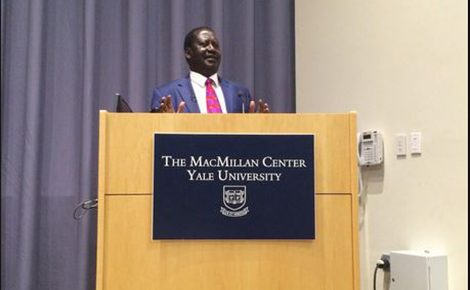 Former Prime Minister Raila Odinga delivering his speech at Yale University (Photo courtesy)
Former Prime Minister Raila Odinga is set to press the management of Yale University to set up a satellite campus in Nairobi and to reach out to more high schools students especially in rural areas under its newly created Africa programme.
Raila arrived in the US on Wednesday evening to deliver the Coca Cola World Fund at Yale on Thursday evening.
But during interviews at the University's media centre, the former PM said one of the things he hopes to take out of Yale is a commitment by the University to reach out to young Kenyans especially those in rural high schools.
Raila will have discussions with Yale officials including Rachel Adams, the associate director for Africa in the Office of International Affairs who coordinates the University's outreach to Africa. He will also meet Mr David Bach, Senior Associate Dean for Executive MBA and Global Programmes.
Raila said he is keen to tap into Yale's steps to expand the number of faculty interested in Africa.
Apart from the Coca Cola lecture, the PM will ask the University's management to incorporate Kenyan high school students in rural areas into the Yale Young African Scholars Program (YYAS).
This is a five-day program designed for African students who will graduate from secondary school in 2015 or 2016, are 18 years or younger at the time of the program, and have the talent, drive, energy, and ideas to make meaningful impacts as young leaders, even before they begin their university studies.
There is no cost to students to participate in the Yale Young African Scholars Program. Participants are, however, responsible for getting themselves to the venue at the outset of the program and their return home at the end of the program.
The programs help students recognize and understand global issues, strategize responses, and innovate solutions while learning from Yale faculty and African undergraduate and graduate students who currently attend Yale. Students participate in a lecture series and a number of elective seminars on a variety of topics.
It is yet to take off in Kenya but is already being implemented in Ghana and Ethiopia.
The program's content is designed to improve students' analytical thinking, intellectual flexibility, and written and oral communication skills.