Voter listing is a golden chance to bring change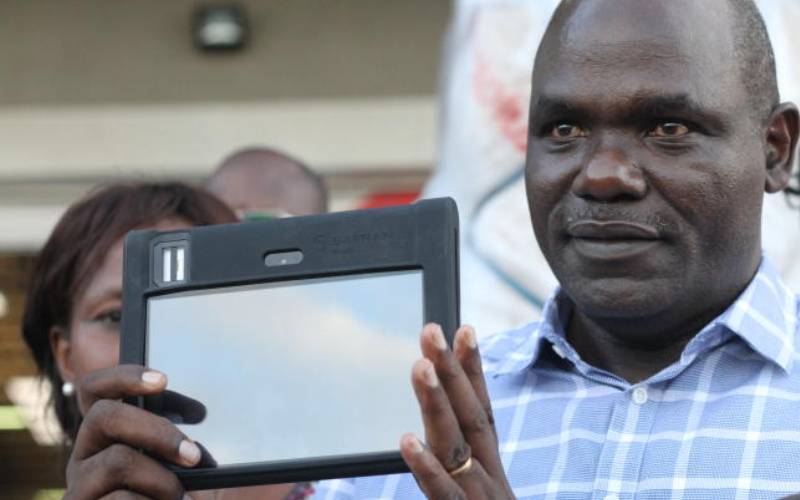 Kenya is preparing for a critical political transition come August 9, 2022. This will be a defining moment in the country's history since President Uhuru Kenyatta will be handing over power to the next chief executive.
On Monday, the Independent Electoral and Boundaries Commission (IEBC) rolled out a nationwide mass voter registration drive. There have been only over 180,000 new registered voters since 2018. IEBC is targeting to have 25 million registered voters participate in next year's General Election.
The mass voter registration is taking place against a backdrop of hue and cry over bad governance and policies. Time to right the wrongs and elect leaders with integrity and who will be accountable to the people is now. Your vote is the licence to good governance.
The Commission is targeting at least 7.2 million new voters in a drive that has been devolved to the 1,450 county assembly wards, each supplied with at least three BVR kits. However, the last five days have witnessed a slow pace of the exercise. This should act as a red flag to the Commission, which is yet to roll out voter education campaigns. Part of this may be because of IEBC's perennial complaints of inadequate funding from the National Treasury.
It is worth noting that lack of voter education and registration lead to widespread political apathy and low voter turnout. This undermines trust and legitimacy of polls. The political class appears to be silent and has not shown much enthusiasm to join in the mobilisation of citizens to register as voters. The religious community and civil society are also important pillars in democratisation and should mobilise their members to register as voters.
Majority of the new voters are youths who were born at the turn of the millennium. It is critical for the youths to realise that registering as a voter will allow them to participate in the country's critical decision-making processes at both the national and county government levels. This is an opportunity to have their voices heard by electing leaders who have their interests at heart.
That also applies to the youth seeking to contest elective posts; they cannot vie unless they register as voters. Again, only registered voters are permitted to nominate or second candidates of their choice or sign supporters' lists during nominations. Besides, as a registered voter, one gets the chance to vote for a candidate of his or her choice. And it is only registered voters who are allowed to sign a petition seeking redress in the event of any dispute in election results. What this means is that a registered voter is an empowered citizen.
Bad leaders are elected into office by citizens who fail to register as voters or fail to vote. Citizens vote for leaders to represent them and their interests.
Though voter registration is a continuous process, failure by the Commission to engage citizens in continuous civic and voter education has seen IEBC adopt periodic voter registration like the ongoing exercise, which has got budgetary implications and end up increasing the cost of elections. For instance, the Commission plans to use Sh1.2 billion for the month-long voter registration.
The National Treasury on its part should not appear to be a hindrance to Kenya's roadmap for a free, fair and verifiable election outcome next year by denying IEBC the much-needed resources.