Mr Mutyambai, get to bottom of police brutality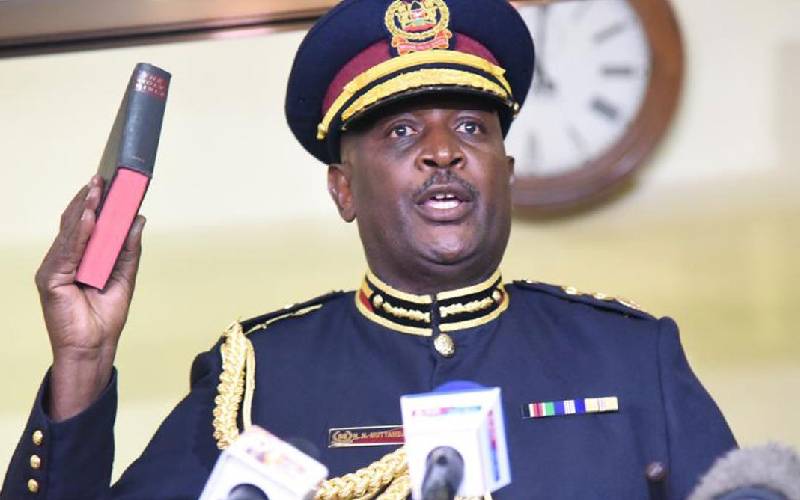 The tears of a mother overwhelmed by grief while burying her two youthful sons, killed in the most callous way, should prick the conscience of every police officer in Kenya. Indeed, every Kenyan should be worried about what befell Catherine Wawira and her husband John Ndwiga from Embu County, last week.
They lost Emmanuel Mutura and Benson Njiru, their two sons who were barely out of their teenage and steadily working their way into college, and the future looked bright for them.
The family hoped the two boys would complete their studies and become useful members of society. But it was not to be. They were routinely arrested by police officers for violating the curfew restrictions at Kianjokama trading centre. That is not a problem because Covid-19 pandemic has devastated lives across the globe and Kenya is not an exception.
However, they later died while in police custody. What happened to them? Were they murdered? Who had the motive to end their lives? The two had no criminal record and it is unlikely that they could have been in a shadowy business deal.
The Independent Policing Oversight Authority (IPOA) has been accused of dragging its feet on investigations into the incident. While demonstrating on the streets, college colleagues of the two boys chanted specific names of the police officers allegedly involved in the killings. So far, no one has been arrested for the heinous acts. This is unacceptable in a country governed by the rule of law and has a government apparatus capable of protecting its citizens.
Cases of police and extra-judicial killings have been documented and seem to be on the rise again. Another young man died in police custody in Nakuru last week under unclear circumstances. At the height of Covid-19 containment measures early this year, a man was clobbered by police officers in Kakamega and left nursing fatal injuries.
Inspector-General of Police Hilary Mutyambai and his charges must now stand up to police brutality and weed out rogue elements in the service. Police officers work under harsh conditions but that should never be an excuse to vent their frustrations on hapless citizens. Still, there officers who do an extremely good job of protecting lives and ensuring safety for all. Indeed, many officers confess that they love their job of keeping everyone safe.
But should Mr Mutyambai, his team and all Kenyans be held hostage by a few rotten apples in the Police Service? This is the time to streamline the Service and wipe away tears of pain from Wawira and other mothers who have lost their loved ones in the cruel hands of the police.