Karibu President Suluhu: Is this start of a lasting 'marriage'?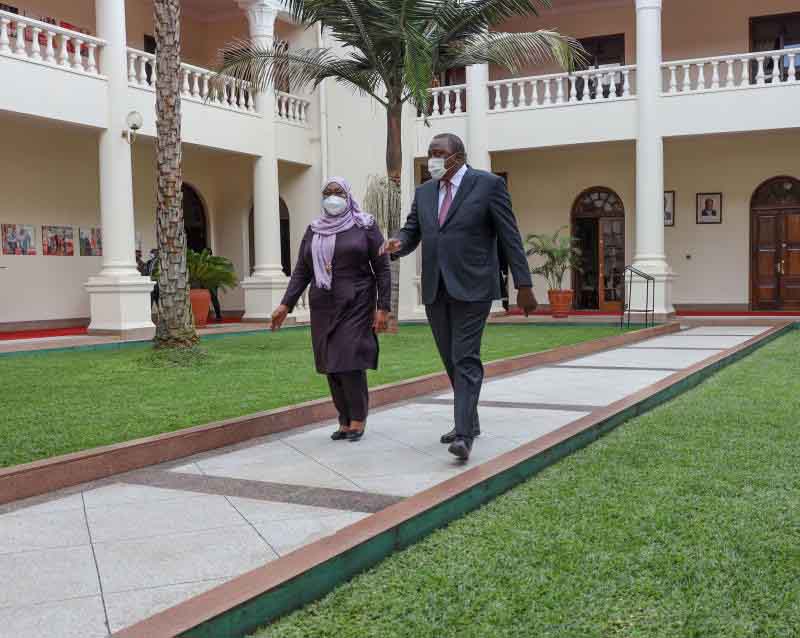 With poise, grace and presidential class she descended the steps of the Air Tanzania at 10.32am and not even the unforgiving traffic snarl-up left behind by her presidential motorcade as it snaked towards State House, Nairobi, dampened the mood this visit came with. Anticipation. Optimism. New beginnings.
President Samia Suluhu Hassan couldn't have come to Kenya at a better time. Just watching her on TV conduct her business during her official two-day State visit was a breathe of fresh air -- not for anything, but the fact that she had already shown signs of taking a different diplomatic approach from her predecessor.
Having taken over the reigns as president just six short weeks ago, there has been every indication that certainly, there will be a stark difference between her rule and that of the late John Pombe Magufuli. Thus far, she has undone a few wrongs by Magufuli, including reopening media houses, fresh strategies in fighting Covid-19 and most pressing, fixing broken relations with Tanzania's allies.
Many remain hopeful that she would be the much needed boon not just for bilateral ties with Kenya, but the region at large. If the discussions with her counterpart Uhuru Kenyatta are anything to go by, this seems like a new dawn, the agreements reached on easing business at the border points, collaborations on infrastructural projects like the gas pipeline and commitment to constant communication and consultation has been long overdue and are expected to serve the interests of both countries. A win-win situation.
You see, Kenya and Tanzania have enjoyed a love-hate relationship for decades now, with a difference in ideology dating back to the 60s being the first point of departure for the two neighbours. Coming right in the middle of simmering ideological and geopolitical tensions that was the Cold War between the United States, the then Soviet Union and their respective allies, here in East Africa, the script was the same, only on a smaller scale.
Kenya and Tanzania took different tangents in socio-economic development policies -- Tanzania going with the socialist Ujamaa strategy that leans more towards shared economic resources while their counterparts Kenya going for the exact opposite, settling for capitalism and all its trimmings. This led to the collapse of the East African Community in 1977.
Since then, the relationship has been a roller-coaster, oscillating between heightened collaborations and turf wars. Tough love it has been, with every regime on both ends seen to have different approaches on how to handle each other.
President Suluhu Hassan's visit comes at a time the relationship was in the pits following several ugly incidents in form of trade disputes and grand standing aggravated by accusations and counter-accusations that threatened not just the ties that bound East Africa's largest economy and most populous nations, but the integration of the East African Community that was slowly turning moribund. Luckily, she is not new to regional and international diplomacy, having represented Magufuli in many key regional and international events.
What is more impressive is the fact that she seems to be a bit more strategic than was her inward-looking predecessor, extending a hand to her neighbours and open to sit-downs to thrash out issues that have continuously served as impediments to the shared growth between countries and the region. Hers are seemingly not just cosmetic tours, but ones that serve to achieve an agenda top of which would be the growing strategic interest for Tanzania, which experts say could be a game changer for East Africa's most populous nation.
While this move was long overdue, one can only hope that this time it will be a smooth sail as both presidents attempt to open up the spaces for doing business with each other and have more meaningful engagements. Anticipation is rife that perhaps they could even unlock new investment opportunities that will have an impactful trickle down effect on the populations. Could this be the beginning of a good and lasting 'marriage'?