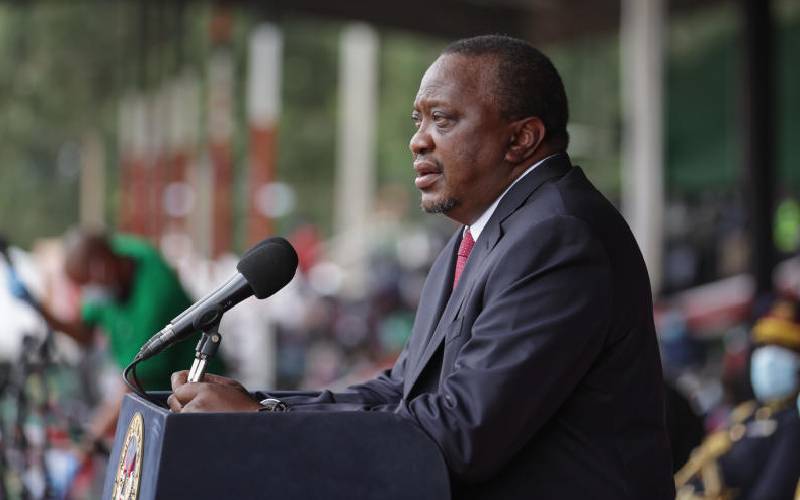 In his Mashujaa Day speech yesterday, President Uhuru Kenyatta (pictured) outlined a long list of heroes and heroines who risked their lives to free our country from the yoke of the colonialism.
Many of them paid the ultimate price, but that did not stop their comrades from going on with the struggle. Besides mentioning the oft-quoted independence heroes such the Kapenguria Six, President Kenyatta remembered pioneers of the freedom struggle such as Chief Waiyaki wa Hinga, Mukile wa Nameme and Mekatilili wa Menza. Needless to say, these heroes and heroines, and many others, will be part of our history forever.
As the President aptly noted, their quest to liberate our land was also fueled by the desire to drive hunger, ignorance, disease and unemployment from our midst. After earning us freedom with blood and tears, the heroes and heroines, passed on the baton of the struggle — the struggle for better, decent life — to us.
However, unlike our forefathers, we cannot confront most of the enemies that make our lives miserable today with guns and machetes. But we require the same ingenuity and courage that our forefathers had to defeat today's enemies. Fortunately, our forefathers' fighting spirit that forced out the British oppressors is still ingrained in our DNA.
Read More
To turn our economy around, to create jobs and produce enough food, we need that weapon. Luckily, as President Kenyatta pointed out yesterday, our youths are brimming with ideas. Kenyatta spoke glowingly of 800 youths he met recently who have come up with amazing projects. The technology, which include an automated weeding robot developed by two JKUAT engineering students, have potential to create jobs and improve our economy.
The truth is Kenyans have brilliant ideas, but respective governments have done little to help them develop them. That's our Achilles heel. Instead of boosting promising businesses and ideas, and encouraging the 'Buy Kenya, build Kenya' initiative, the government and Kenyans at large are fascinated by foreign goods. And it is not only goods.
The government also relies mostly on foreign contractors to put up infrastructure while our universities continue to churn out hundreds of engineers and architects annually who end up without meaningful jobs. We must change course.
Fortunately, the coronavirus pandemic seems to have made the government to start appreciating the potential of local talent and it is increasingly supporting innovative ideas by the youth.
That's how it should be. It is the only way we can triumph over the enemies who have ridden roughshod over us since independence — and create a new generation of heroes and heroines.