State should rein in schools that expose children to grave dangers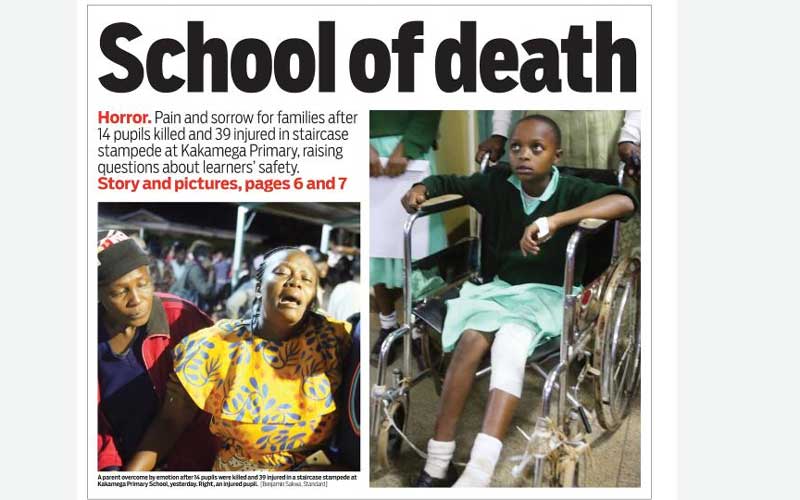 There's a dangerous trend of regulators and schools predisposing learners to accidents through negligence and flagrant disregard for basic safety rules. In the wake of last week's death of 14 pupils at Kakamega Primary School, there are more questions than answers.
While safety is a shared responsibility, it is regrettable that this elusive debate only resurfaces with each tragedy, yet authorities merely scratch the surface in search for solutions and not a single person is held responsible. In September last year, seven pupils died after a classroom collapsed at Special Talent Academy in Nairobi.
And not so long ago, a kindergarten pupil died in Mombasa when he slipped through a hole on the floor of a rundown school bus and was run over.
Many accidents occur yearly and the statistics are appalling. The safety of children should not be taken for granted. There cannot be any compromise about it. Rather than remain defensive in their approach, the State as well as school administrators should play their rightful roles. We believe these deaths and injuries can be prevented if the government means business. A good way to start would be to conduct an extensive audit of school structures to ascertain their safety. Such an audit should extend to vehicles. In the Kakamega case, experts believe poor structural plan could have contributed to the stampede that led to the deaths.
Education Cabinet Secretary George Magoha has his work cut out for him. His ministry should ride on the back of the 2008 Safety Regulations for Schools and the establishment of efficient Standard and Quality Assurance Committees in every region to save lives.
It is equally important to address congestion in schools. With free education, there are institutions bursting at the seams and it's only a matter of time before more disasters happen.
Lax oversight in Education and any others sectors should stop. Above all, we call for swift investigations to establish the truth so adjustments can be made to prevent further loss of lives. Only then will the affected families find closure.