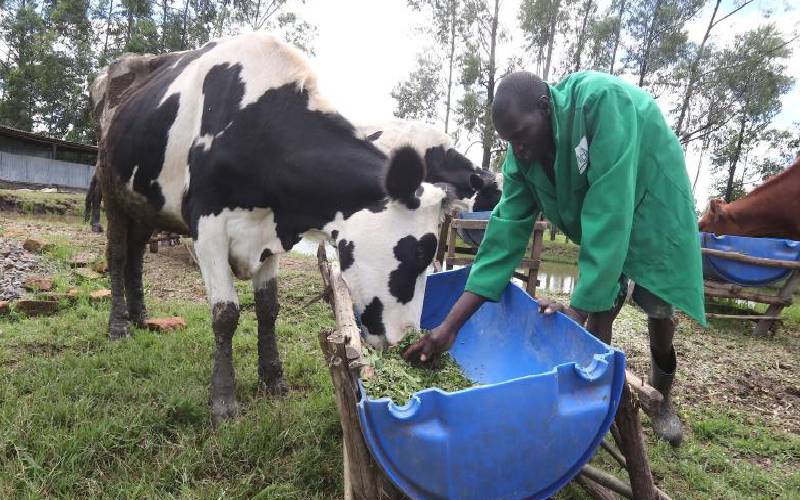 By the time President Mwai Kibaki was leaving office in 2013, dairy farming had become a lucrative business. The revamping of Kenya Cooperative Creameries led to stiff competition among the milk processors, leading to rise in milk prices of up to Sh35 per litre.
As a result, some farmers expanded their sheds and bought more cows to cash in on the turn-around. Milk production improved greatly. And then the bubble burst.
Milk prices started fluctuating, leaving dairy farmers uncertain and depressed.
But things have clearly gotten worse. Farmers in Nyandarua County are now selling their milk for only Sh17, down from Sh30 two months ago.
The processors claim the poor prices are occasioned by a glut in milk production, most likely due to the ongoing rains. They argue that there is a lot of milk out there, but nowhere to sell the same.
If the ongoing rains are responsible for the glut, someone needs to explain why milk prices fell from Sh35 per litre to between Sh24 and Sh27 early this year in the middle of a severe drought.
Although Kenya is a free market and it is within the right of the processors to determine the prices, something clearly doesn't add up here.
For while the companies are buying the milk at throw-away prices, the price of the product in the market has not changed at all. One litre is still fetching Sh100 in the supermarkets. It is dishonest to make a killing out of a product that you have acquired cheaply.
It is unlikely the firms have been discarding the excess milk they are buying cheaply from farmers. It's common knowledge that some of them have machines to make powder milk. They therefore have no good reason to reduce the milk prices as they will still sell in future.
They are obviously making hay while the sun shines. But unfortunately, by lowering the milk prices, the firms are busy killing their milch cows. They will soon drive farmers out of business.
The government is not helping matters either. By opening the floodgates of milk from neighbouring countries, the State is guilty of abetting the killing of the local dairy industry.
Matters are aggravated by importation of powder milk, which makes Kenyan milk uncompetitive.
It's time for the government to stand up for our farmers. Already, the farmers are complaining that what they are earning is not enough to keep them going, take care of their cattle and pay school fees for their children.
The government has a duty to ensure that farmers' toil yields them decent returns. The Jubilee administration should not protect the interests of local and international companies at the expense of dairy farmers