Allow for more consultation on Mau to avert humanitarian crisis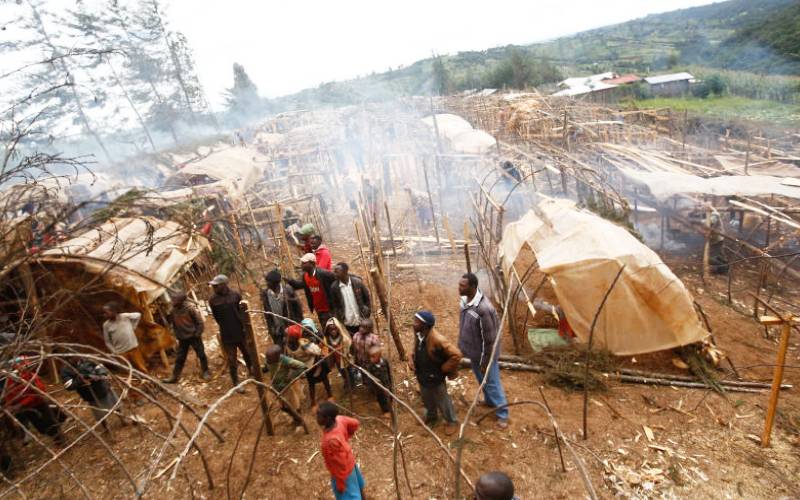 Renewed attempts to conserve the Mau Forest Complex have put the Jubilee admiration in a moral quandary.
We are in the same situation we faced in 2010 when the grand coalition tried to conserve the complex, only for leaders to make it a political pawn to set locals against the government.
While Environment Cabinet Secretary Keriako Tobiko insists no stone will be left unturned, daggers are already drawn.
A few days before Tobiko led the planting of 10 million seedlings in the water tower, more than 40 politicians alleged human rights violations in the evictions.
They demanded that the State devises a formula that will help the restoration of the tower without disadvantaging victims. According to Rift Valley Regional Commissioner George Natembeya, 96 per cent of people who had encroached the water tower have vacated, paving the way for the planting of 100,000 seedlings at Siera Leone area, Narok South.
Aerial seeding of over 3,500 hectares by Kenya Forestry Research Institute also kicked off.
But there are concerns that settlers had been brutalised even before the October 31 deadline to vacate the gazetted forest land elapsed on Friday, a matter local leaders want President Uhuru Kenyatta to address.
There are hundreds of Mau dwellers who acquired titles and have been innocently occupying the land.
There are those who settled there out of sheer helplessness while others were driven by greed or used by interested parties. It would be unfair to condemn them wholesale.
It is not too late to dialogue over Mau to avert a humanitarian crisis. The State shouldn't create a problem trying to solve an existing one.
Hundreds of families are living in despicable conditions. Granted, there's what it takes to safeguard a country's natural resources and biodiversity.
Political bickering and threats by the State are pointless. Conservation is two-pronged. It should safeguard nature by protecting vital resources, and be a lifestyle issue that discourages reckless practices without compromising the wellbeing of the ecosystem and its flora and fauna.