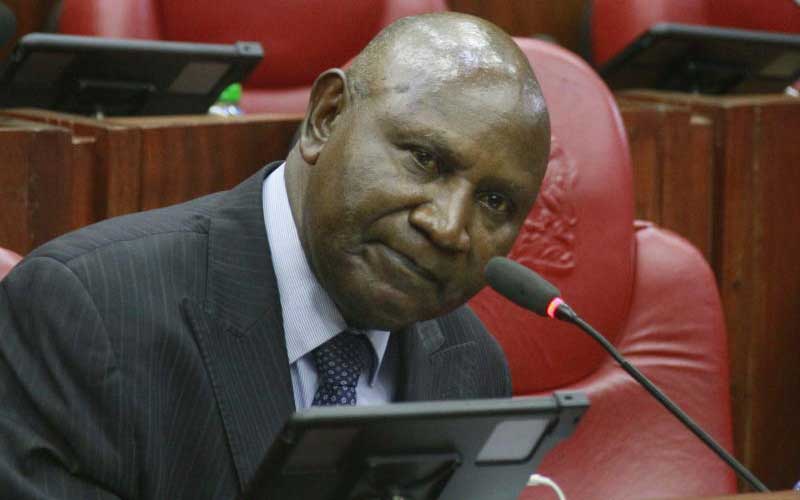 During his time in office, Edward Ouko (pictured), whose term as auditor general expired on Monday, unearthed a lot of muck and, as a result, stepped on many a toe.
This, inevitably, won him many enemies. During a public lecture in Nairobi on Monday, Mr Ouko said his wife at one point warned him "to be careful".
It is not hard to see why he felt insecure. The auditor raised hundreds of audit queries, questioning the spending of billions of shillings by both national and county governments. Doing so cannot make those we entrust with our money happy.
That's why holders of an office like the Auditor General's that ruffles many feathers need protection to enable them carry out their work without fear. That is what Ouko was pleading for.
Among others, he asked that the Constitution be amended to separate the Head of State from the head of government, saying this would shield the auditor from brickbats hurled by a powerful president.
"Under the current system, the auditor is up against the President and his ministers. If the President is protective of his ministers, then the audit is watered down." If creating the position of head of government is what it will take for the auditor to do his job more efficiently, why shouldn't we do it?
While audits are not proof of malfesance, they give a good hint at possible areas where public money could have been misused or plundered outrightly. Therefore, audits ought to be a launchpad for further investigations.
Unfortunately, and this has been Mr Ouko's biggest source of frustration, his audit reports are rarely treated with the seriousness they deserve.
"As things stand now, our reports are always greeted with the statement 'the auditor has flagged down all these issues, so what?' We would like actions defined in the law to avoid this question of so what?"
Ouko wants the office given teeth to punish those it finds culpable. According to him, the Auditor General should be given powers to recover funds that s/he is convinced were embezzled or to recommend sacking of culprits. This a good proposal.
There is no need of piling files upon files of audit reports without taking action. It defeats the very purpose of establishing the auditor's office. If audits are not used to improve accountability and to fight corruption, they are not worth the papers they are written on.