Get to the bottom of power bills scam, punish those behind it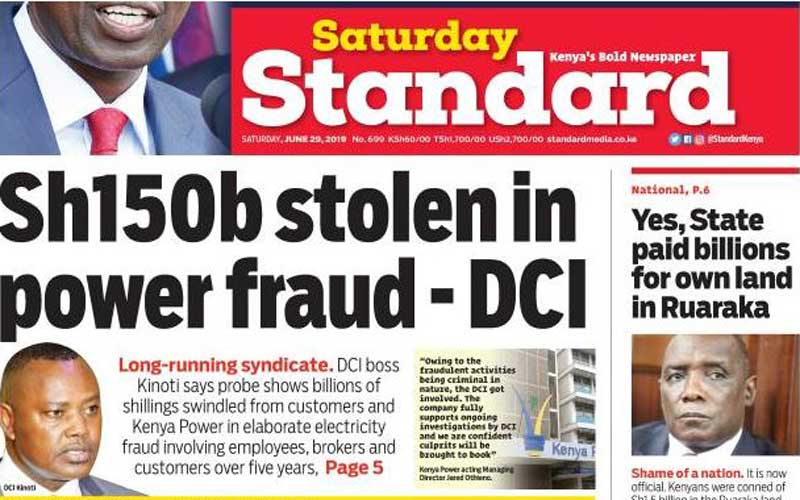 The high cost of doing business in Kenya can be attributed to electricity. Even as the government steeped its campaigns to attract foreign investors to boost our economy, it emerged that the cost of electricity was much too high compared to neighbouring countries Tanzania and Uganda.
Authorities have been compelled to seek ways of addressing this problem, but as it would seem, no solution has been found yet. Last week however, the Directorate of Criminal Investigations (DCI) revealed it had unearthed a fraudulent scheme involving millions of shillings within Kenya Power. This is in regard to the billing of post-paid customers.
Huge sums of money get lost as a result of a conspiracy between some Kenya Power Company staff members, brokers and customers. This could be the reason power tariffs have remained too high. Following the discovery of the plot, DCI George Kinoti has produced a list of Kenya Power Company employees, brokers and customers in a case in which 5,000 customers benefited. Those on the list have been ordered to present themselves for questioning.
In total, 119 companies and 85 individuals were summoned. Preliminary findings show an elaborate scheme through which customers lost up to Sh150 billion. Surprisingly, this has been ongoing for at least five years now. On its part, the power company claimed it received information from some customers and members of the public regarding fraudulent activities that targeted unsuspecting customers and immediately commenced investigations which, by now, must have been completed.
The interrogation of those involved in the rip-off should not turn out be an exercise in futility as so often happens in other investigations where public money has stolen. So far, the process initiated to solve the riddle is commendable and should be sustained until all culprits are brought to book. Power supply and consumption are integral to any form of growth. From large scale to small companies and even individual consumers, power supply remains critical.
It will be in the interest of all if concerned parties collaborated with investigators during the probe to help seal loopholes that were used to defraud consumers. Those behind the scheme must be punished to serve as a deterrent to those who may wish to carry out such schemes. At the end of the day, both investors and Kenyans wish for affordable power tariffs.