Ukambani 'hustler' brigade vows to shoot down BBI report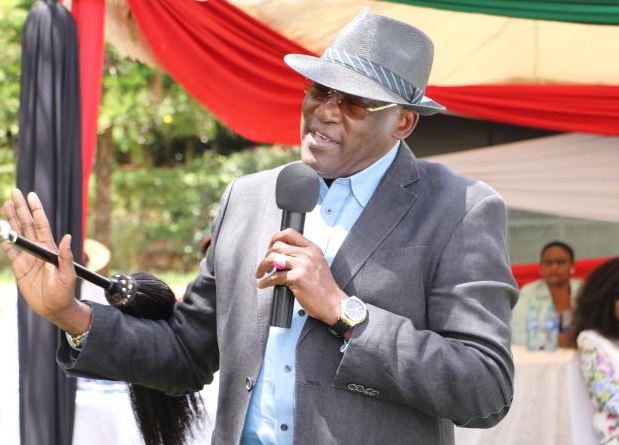 Ukambani politicians drumming up support for Deputy President William Ruto's 'hustler' movement have dismissed the proposals in the Building Bridges Initiative (BBI) report, barely a day after President Uhuru Kenyatta and ODM leader, Raila Odinga received it.
Former Machakos Senator Johnstone Muthama, Machakos Town MP Victor Munyaka and Mwala MP Vincent Musyoka insisted the much touted BBI report was designed primarily to create positions for politicians, and not to address other critical challenges facing Kenyans.
Muthama (pictured), who hosted professionals drawn from Makueni County at his Mua Hills home in Machakos for a meeting declared BBI report will be 'a still birth' as it does not offer a solution to Kenya's problems.
"I want to tell President Uhuru Kenyatta that BBI will be 'still birth' because we know his motive is not to unite Kenyans. How can you say by creating five positions you will be able to bring peace in Kenya? he posed.
Muthama observed it was fallacy for anyone to imagine that Uhuru and Raila's unity will automatically eradicate Kenya's political and economic problems. "It is Kenyans who have to solve their own problems and not Uhuru and Raila.There is nothing special with them," the former Senator said.
His sentiments were echoed by Munyaka, who said the narrative that BBI will address the perennial wrangles brought about by 'winner-takes-it-all' formation of national elections was deceptive.
"In any democratic environment, there has to be a winner and a loser. The BBI report seeks to kill democracy through rewarding losers. Even if winner takes it all was bad for the country, why is it being applied only for the country's top positions and not the rest?" wondered Munyaka.
Munyaka observed that the competitive nature of elections in democracies require that there be a definite loser and winner. "Kenya is being used as a guinea pig in testing weird political concepts. We as a country must discourage the culture of failure by political players not to accept the outcome of an election," said the Machakos Town MP.
At the same time, Maendeleo Chap Chap party leader and presidential aspirant, Alfred Mutua warned that the Building Bridges Initiative (BBI) report might be rejected by Kenyans if its proponents fail to involve all stakeholders.
Speaking at the Governor's Lodge in Matuu on Wednesday hours after the release of the report, Dr Mutua lamented that the BBI process had been carried out in a secretive manner which failed to take cognizance of critical stakeholders whose views ought to have been taken into account.
"If we are being taken from the sides and urged to support the report blindly, we will say no. All leaders and citizens must be involved accordingly. We will not fall under the wishes of a chosen few who want to bypass the rest of the people," Dr Mutua added.
The Machakos governor, who has engaged top gear in popularizing his 2022 presidential bid said that in order to gain support of Kenyans, BBI must endeavour to address issues of the crumbling economy and how to rescue millions of Kenyans from the fangs of poverty.
"This issue of class system calculated to favour specific individuals could lead to the trashing of the entire document by Kenyans. For it to sail through, BBI should not be packaged and sold in a secretive manner. It is a document for all Kenyans," he said.
He said although he did not agree with deputy president William Ruto on various ideological issues, he backs the DP's sentiments that adequate consultations have to be made in order to make the proposed amendments to the Constitution acceptable to Kenyans.
During Mashujaa Day celebrations at Gusii stadium on Tuesday, President Uhuru Kenyatta urged Kenyans to support the BBI report, saying it will address a myriad of recurrent problems in Kenyan's election cycle.