Four children die, 13 sick as rare disease spreads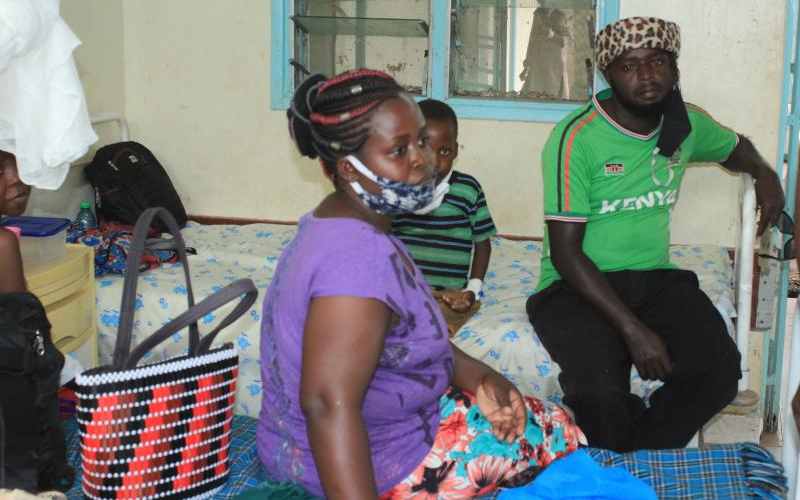 Four children have been killed by an infectious disease in Mwingi North, Kitui County.
Thirteen others are undergoing treatment at Garissa Level Five Hospital following the outbreak of kala-azar, a disease caused by infection with leishmania parasites.
The affected children come from Ngomeni, Mandongoi and Tseikuru areas.
According to the World Health Organisation, kala-azar, also known as visceral leishmaniasis, is characterised by irregular bouts of fever, weight loss, swelling of the spleen and liver, and anaemia.
If the disease is not treated, the fatality rate in developing countries can be as high as 100 per cent within two years.
Regina Kasyoka is weighed down by the death of her four year-old-daughter five days ago, as another of her children fights for his life at the hospital.
"My three children were struck by the disease. One of them was discharged but sadly the young one died," the mother said from the hospital next to her second born. The body of the child is still lying at the hospital's mortuary, sinking the mother into a hurting dilemma of transporting it back home, some 200km away.
Peter Muthengi is another parent whose five-year-old daughter is admitted to the facility. He said he was forced to seek treatment in Garissa since there was no medication for Kala-azar in Kitui County.
"I first took her to Mwingi Sub-county hospital but I was told they do not have drugs to treat the disease. They referred me to Garissa," Muthengi said, adding that his daughter's condition had fairly improved.
Poor families
Muthengi said in Ngomeni Ward, where he hails from, there were tens of other children suffering from the disease, but whose parents were too poor to seek treatment. "It is a looming catastrophe. If there is no urgent medical help for them, we may end up losing so many children," he lamented.
In another corner of the children's ward, Phyllis Joseph is nursing her eight-year-old son, who has a distended belly.
"I took him to two health facilities after I noticed his stomach was swelling and he was weak. They could not diagnose his ailment. A neighbour who had a child with similar symptoms advised me to seek treatment in Garissa," she said.
That neighbour is Antony Muthui, whose son, six, is completing a month now at the hospital. The parents are pleading with Kitui County government to ensure local facilities are equipped with drugs to treat the disease. "If the treatment was available back home, it would be convenient for us. We are really suffering. The cost of transport itself is high," said Muthui.
According to Abdullahi Abdi, the nursing officer in charge of the children's ward at Garissa Level Five hospital, the four children died in just under two weeks of their admission.
"This is the highest number of patients we have admitted for Kala-azar so far. In the past, we used to admit two to three patients a month," said the nurse. He said the patients were below the age of 10.
The medic said the patients were responding well to treatment and would remain there for another 28 days. Kitui County Officer in charge of Health and Sanitation Richard Muthoka said a medical surveillance team had been dispatched to affected areas.
He said drugs to treat the disease were available and issued free by national government. "It is not true there are no drugs locally. We just need to alert the national government to send the drugs when the cases are reported," Muthoka said.