Kalonzo allies endorse Wiper's political deal with Jubilee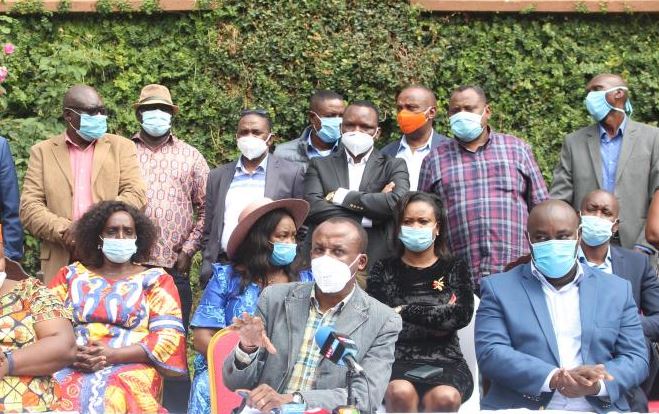 A section of political leaders from Ukambani allied to Wiper party leader Kalonzo Musyoka have endorsed his recent move to sign a cooperation agreement with the Jubilee party.
More than 17 members of Parliament led by the three Ukambani Senators Mutula Kilonzo Jnr (Makueni), Enoch Wambua (Kitui) and Boniface Kabaka (Machakos), who addressed a press conference in a Machakos hotel yesterday, also declared that Kalonzo will be seeking the country's highest political office in the 2022 General Election.
The leaders also sought to exonerate the former vice president from criticisms by some of his political opponents who have claimed he was warming up to joining President Uhuru Kenyatta's Cabinet.
Senator Wambua, who read out a statement signed by 47 political leaders present, said Wiper party's move to sign the cooperation agreement with Jubilee and Kanu was the beginning of a strategic political journey, which will ensure Kalonzo ascends to the highest political office in the next elections.
"For avoidance of doubt, our leader is not looking for a government job. He is keen and resolute about leading this country alongside other like-minded leaders," said Wambua.
He added: "This agreement is calculated to set the stage for an all-inclusive exercise by like-minded Kenyans across the country and transcending political party affiliations to weave together an indivisible movement that will decisively address the challenges of our time and lay a foundation for national stability."
The leaders hailed Kalonzo for signing the cooperation agreement with the ruling party. They said Kalonzo's decision to forge a working relationship with Jubilee will further open a window for the fast-tracking of several important national Vision 2030 flagship projects in the region, such as the Konza City and Thwake dam.
MPs present included Rachael Nyamai (Kitui South), Daniel Maanzo (Makueni), Thaddeus Zambia (Kilome), Patrick Makau (Mavoko), Joshua Mwalyo (Masinga), Jessica Mbalu (Kibwezi East) and Joshua Kimilu (Kaiti).
Others were Stephen Mule (Matungulu), Robert Mbui (Kathiani), Rose Museo (Makueni), Joyce Kamene (Machakos), Charles Nguna (Mwingi West), Makali Mulu (Kitui Central), Edith Nyenze (Kitui West), Irene Kasalu (Kitui) and Musili Mawathe (Ebakassi South).