Uproar as police chopper evacuates health workers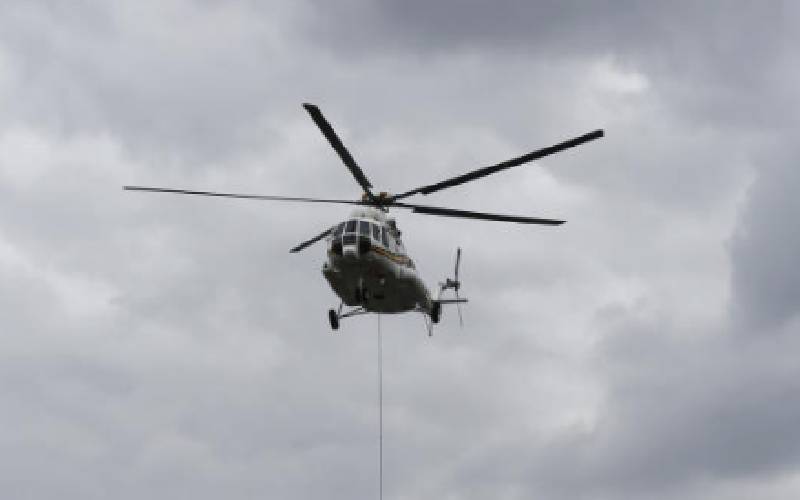 There was uproar yesterday after a police chopper was dispatched to evacuate non-local healthcare workers from Bura in Garissa over safety concerns.
Leaders faulted security officers in the area, accusing them of failing to provide the much-needed security and abetting militia activities.
A police chopper was dispatched from Nairobi on Saturday to evacuate 10 health workers.
Although the reasons behind the evacuation were not clear, security sources told The Standard that the health workers called for help after an improvised explosives device was discovered in Nanigi, a few kilometres from Bura town, a week ago.
Area Ward Rep Abdullahi Omar said they were seeking answers from security officers on what informed the evacuation.
He said he was not aware of any emergency that may have prompted a chopper to be dispatched from Nairobi.
Fafi Sub-County and other areas near the Kenyan-Somalia border have been riddled with runaway insecurity, with several attacks that have claimed lives. The casualties include security officers.
At the beginning of this year, three teachers at Kamuthey Primary School were killed in cold blood after Al Shabaab militants stormed the school at dawn. A week before the attack, they had killed four school children in Saretho in Garissa County.
"We have been working with the government by providing information. Taking away health workers is wrong because we are Kenyans who should enjoy services like any other Kenyans," said Ms Halima Mohamed, a Bura resident yesterday.
She said the government ought to enhance security in the area and ensure health workers are given adequate protection to guarantee them safety while on duty.
Dr Mohamed Diis Shafat faulted the government, saying dispatching a chopper to evacuate health workers was uncalled for.
"Education in Fafi is dead after all the teachers were transferred. Now all the health care workers are being evacuated. Why is the government abandoning us?" he posed.
Dr Diis said the government's move was indirectly emboldening terrorists who thrive on threatening their enemies. Regional Police Commander Paul Soi couldn't be reached for comment.