Shun politics, join fight against Covid-19, Wambora, Kivuti told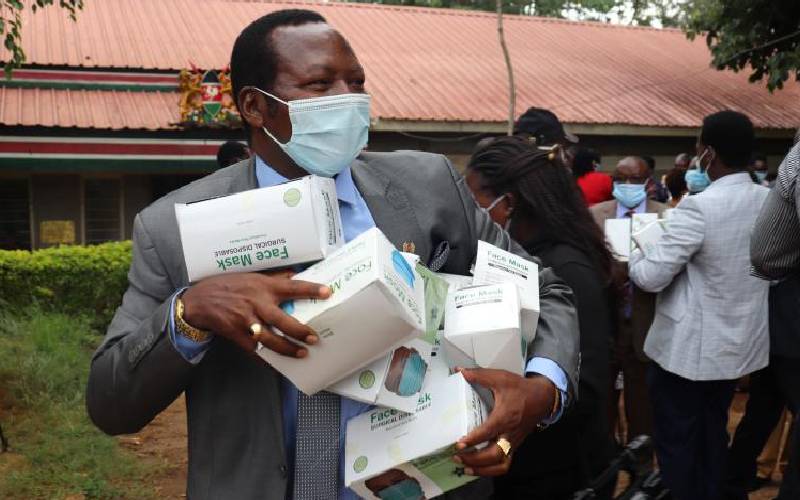 Embu County Commissioner has told Governor Martin Wambora and his political rival ex-Senator Lenny Kivuti to stop political feuds and instead direct their energy to the fight against Covid-19 pandemic.
County Commissioner Abdulahi Galgalo told the two leaders that people look up to them to lead them in the war against the virus and not the political feuds.
Galgalo told the duo to mobilise resources and their supporters to join the war against coronavirus and sensitise people to observe government directives and assisting the vulnerable.
"I urge the two to work together for now to curb the spread of coronavirus. In 2022 you will have time to politick and we will even be there cheering you," said Galgalo.
He spoke when he received a donation of 35,000 masks from Kivuti for distribution to those offering essential services all over the county mainly boda boda riders, market traders among others.
He said Kivuti's donation builds on what Wambora's administration and other well-wishers have done such as the distribution of 50,000 masks, fumigating of markets and provision of hand washing tanks.
Kivuti who was accompanied by Embu Speaker Josiah Thiriku and all the county MCAs said his donation is not political.
"This is not the time to play politics but time to give a hand in the fight against the pandemic," he said.
Kivuti was the closest Wambora's challenger during the 2017 elections, losing with less than 1,000 votes.
He petitioned against Wambora's win but lost at the Supreme Court.
Meanwhile, Galgalo revealed that the elderly and the vulnerable people in Embu County have received a Sh168 million support from the national government to cushion them from poverty during the Covid-19 pandemic.
He said the money will go to the cash transfer kitty with each beneficiary getting Sh8,000.
"Through the national government, the county has also received over 300 sanitisers and over 50, 000 face mask," he said.
On his part, Thiriku said the county assembly has set aside Sh28 million towards emergence response out of which Sh7 million will go directly to fighting the pandemic.
He added that the assembly will continue to work closely with all leaders in Embu to ensure the county combats the disease.