Newly weds share egg instead of wedding cake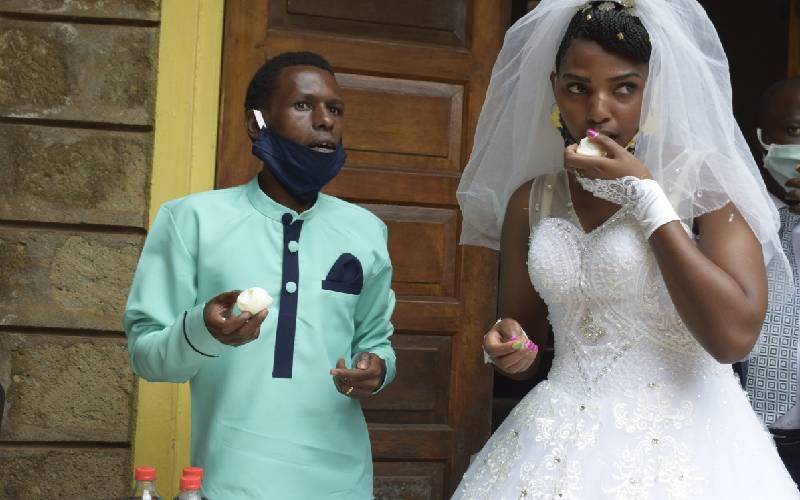 A couple in Meru has had a wedding despite constrains caused by the coronavirus pandemic.
Godfrey Mutwiri, 29, and Grace Nkatha, 24, slated the ceremony for April 18, 2020.
"I had told her to pick a date and she decided to pick today which also happens to be my birthday," said a beaming Mutwiri after the wedding at Annexe Hall in Makutano, Meru town.
The lovebirds have been dating for five years.
They ignored family and friends who urged them to postpone the wedding.
"When we were under pressure to postpone the wedding I remembered my father telling me that life could not be postponed. We don't know when this pandemic will end."
The 45-minute ceremony was attended by the couple's parents, their best couple, a pastor and his wife as well as two of the couple's sisters who were bridesmaids.
Until April 14, the couple had set their eyes on their friends living in Samburu as their best couple.
Financial constraints caused by the ongoing crisis hampered efforts by the Samburu couple to make it to Meru.
"I called Eric Munene who is a good friend and my spiritual mentor for 10 years to ask what I should do. To my surprise, Munene and his wife Mercy Nzuki readily offered to step in." Mutwiri said.
He is a Kiswahili and CRE teacher at Thuura Boys Secondary School while Nkatha is still unemployed.
Their wedding budget was Sh240,000.
They ended up spending less than Sh40,000 on the event due to the limited number of guests.
Due to government guidelines on keeping the coronavirus at bay, no food was served at the reception. The guests only got a banana, a cupcake, a boiled egg and soda.
Although the couple will not be headed to their planned honeymoon, Nkatha said she is happy to be married.
"How extravagant a wedding is, does not matter. What is important is the marriage itself," she added.
Mutwiri's sister Deborah Karimi promised the couple an all-expenses paid honeymoon in Mombasa but due to the lock down in Nairobi and the Coast, the couple settled on staying home.
The hall where the two lovebirds said their vows was largely undecorated.
Guests sat one metre apart with masks covering half their faces.
Although the couple was sad about not having all their friends around, they were happy to have cut cost.
"We are social beings but this virus is teaching us that the marriage itself is more important than the wedding," said Mutwiri.
The couple will be holding a celebration on their first anniversary and hopes to invite friends and family.
Pastor Isaac Kimathi of Christ Coworkers Fellowship officiated the wedding.