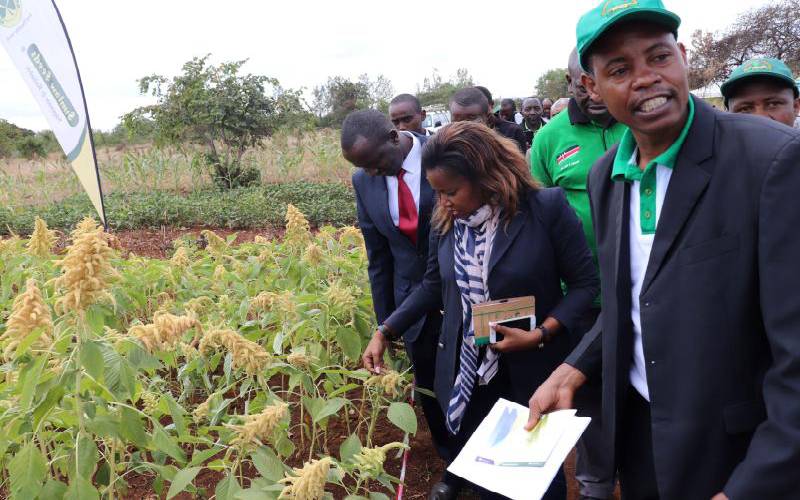 The fight against fake seeds is bearing fruits due to the Mulika Mbegu Mbaya campaign by Kenya Plant Health Inspectorate Service (Kephis) an official has said.
Kephis Quality Assurance General Manager, Simeon Kibet said the level of fake seeds in the market has fallen from 40 per cent when they started the campaign to the current two per cent.
He told farmers to buy seeds from registered companies and used a unique code on the packets to verify their authenticity.
"Farmers should buy certified seeds only from the companies that we have registered. They should scratch the Kephis logo on the seeds packet to find a number that when sent through SMS to 1393 will establish the exact variety, its producer, the batch and its lifespan.
"Also, if the seeds fail to germinate or have poor germination rates, they should report to us. Through this method we have beaten the fake seeds and are working to eliminate them," he said.
He urged county governments to bolster the fight against the fake seeds by working with farmers to flag off seeds and help farmers report to Kephis.
Kibet was speaking during a farmers' field day organised by Kephis, Embu County and other stakeholders at Rwika in Mbeere South, Embu County.
Kibet said Kephis has released better and higher-yielding varieties of sorghum, pearl and finger millet, green grams, cowpeas amaranthus and vegetables suitable for Mbeere and other semi-arid parts of the country.
Mbeere residents currently face food shortage due to massive crop failure owing to insufficient rains during the March-April season.
"The reality of climate change has resulted in delayed and below-average rainfall and higher than normal temperatures hence the new crops for nutrition and food security. It is estimated that if farmers plant these crops, then their yields could increase by 10 per cent," he said.
Embu Agriculture Executive Annie Nyaga said the new certified varieties of drought-resistant crops introduced by Kephis and county government, the crops will withstand less rainfall and mature faster.
During the field day, farmers recounted that they were facing unprecedented losses due to the emergence of diseases and pests such as Fall Army Worm, tuta absoluta, fruit flies, mealybugs and spider mites.
Nancy Muthoni, from Kimangaru area, said FAW infestation for the last two consecutive years had devastated her maize crop.
Ms Nyaga said they were working with relevant government agencies to control the disease and pests and outbreaks.
"We are also advising farmers to ensure they use certified seeds for quality and disease-free seeds and also report any incident of disease or pest outbreak," she added.