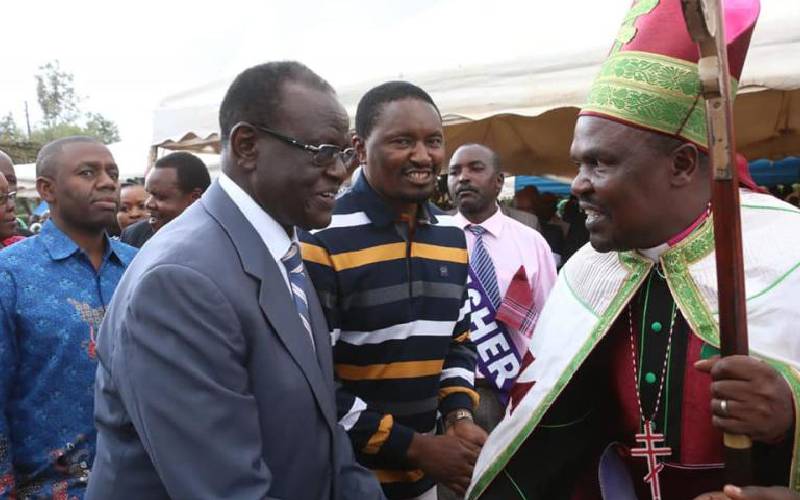 The African Independent Pentecostal Church of Africa (AIPCA) wants to regain schools it says were taken away from it by the colonial government in Kenya. Archbishop Samson Muthuri said the church was dispossessed of the schools it had been sponsoring and now they want them back. "The schools were established by the church before they were taken away by colonial authorities," said Muthuri who spoke at Mariene Diocese in Imenti Central during a fundraiser for a new office block presided over by National Assembly Speaker Justin Muturi.
Freedom fight
The cleric said the colonialists take over the schools after associating them with the fight for freedom that was led by the Mau Mau.
SEE ALSO: Ruto stays clear of row on county revenue but demands fair solution
Muthuri said the church is still sponsoring most of the schools and appealed to Imenti Central MP Moses Kirima, who is also an AIPCA cleric, to table a motion in the National Assembly that will see the schools revert to church. "The colonial government destroyed many institutions, including our schools because they associated church with Mau Mau," said the bishop. Muturi presented Deputy President William Ruto's donation of Sh500,000 and a similar amount from himself. "We are already working on how to return the said schools to the church. The church should not be antagonised because it is the light of the community. We all have a responsibility, as leaders, to support the church," said Muturi. Tharaka Member of Parliament Gitonga Murugara committed to give AIPCA land to build a church in his constituency.
SEE ALSO: Uhuru to expel rebel Ruto MPs