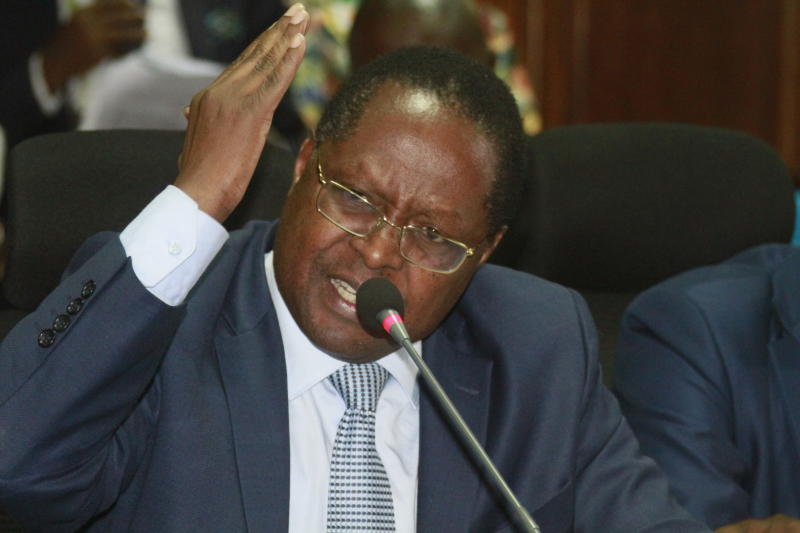 Senators wants three officials who pocketed Sh22.9million in cash probed and surcharged for breach of law and for failing to pay taxes to Kenya Revenue Authority (KRA).
The Senate County Public Accounts and Investment Committee (CPAIC) probing the Auditor General report for the year ending June 2018, found out that Embu County Director of Survey David Njagi, Director of Survey Kenya P.K Ndung'u and Embu County Director of Planning D.K Mmbai for being paid in cash in the facilitation of survey and planning for Mwea Settlement Scheme.
The Senator Moses Kajwang' led oversight committee took Embu Governor Martin Wambora to task on why the three officials were paid money in form of allowances without wiring the money through their various bank accounts.
This is after Edward Ouko in his latest County Executive audit report showed that letters of appointment for the surveyors, the dates the programme was to run, report of the survey and approvals for the process to commence were not availed for audit verification.
"This process of planning and surveying the Mwea settlement scheme involved many officers. Lives have been lost in the scheme and it's a problem that dates back to 1966. The County government paid this money as allowances to all those officers who were involved," Wambora told the committee.
The Embu county boss also had a rough time in explaining the variance between financial statements and supporting schedules amounting to Sh494.2million for the year under review.
The auditor further confirmed that the schedules were availed much later after the audit had been done.
But Wambora admitted that there was incompetence on the part of his officers and promised to fire and reshuffle his officers for effective and efficient delivery.
"The documents were not availed for the auditors because of the delay in IFMIS transaction which was done for months. It is regrettable and I am going to fire my officers and reshuffle the Cabinet," said Wambora.
The lawmakers also took issue with the County boss on why his administration is spending 54 per cent on recurrent expenditure instead of the 35 per cent capped by the law.
This is after the auditor general flagged off unsupported payment of Salaries to Casual employees in which Sh14.9million was paid without any supporting documents including the master of roll.
The Senators Kimani Wamatangi (Kiambu), Ledama Ole Kina (Narok), Mohamed Faki (Mombasa) and Charles Kibiru (Kirinyaga) sought to know why Embu County was spending more funds on personal emoluments and very little on development.
Wambora explained that the wage bill had increased because they inherited employees from the defunct Local government and was unable to sack them.
"We inherited a bloated workforce from the defunct local government and we have been unable to sack them. We are spending 54 per cent on personal emoluments including operations and administrative functions," said Wambora.
On pending bills which the auditor had put at Sh940.9million, Wambora explained that Integrated Financial Management Information System (IFMIS) Creditors module was not active.
"The Pending Bills were fully supported with invoices, Local Purchase Orders, delivery notes and other necessary documents," Wambora explained.