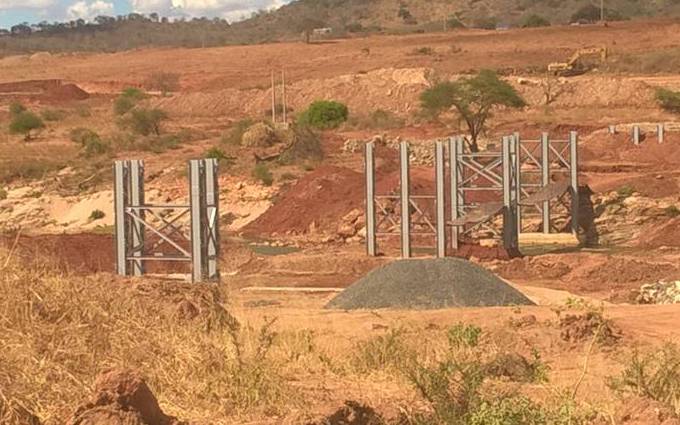 The fate of the multi-billion Thwake dam expected to quench the flares of drought in Eastern counties has been thrown into spin of doubt following workers' strike which entered fifth day on Sunday.
The Sh63 billion dam meant to alleviate regions' economic status now hangs on balance with the workers blaming both the dam's main contractor China Ghezouba Group, and several other sub-contracted companies for what they term as unfavourable working conditions and underpayment.
The over 350 employees, both skilled and unskilled labourers laid down their tools on Thursday while protesting low wages, poor conditions. They have blamed the Chinese for racial segregation, lack of drinking water for employees, and Chinese bosses molesting Kenyan employees.
The irritated workers engaged anti-riot police in running battles for the better part of Thursday, Friday and Saturday morning with a number of them arrested and freed later. They accused police of brutality and blocking them from channeling their grievances.
"These sub-contractors have brokered the works and they end up paying very little with unnecessary sackings. They are paying us Sh411 per day while the main contractor knows we are paid Sh800 which is very minimal", said Samuel Mutuku, a striking worker.
Racial discrimination
A spot check by the Standard across the site on Sunday revealed that the employees have been answering nature calls in the bush and along river banks with the Chinese and other bosses only allowed to use the few toilets dug in the construction site.
"These Chinese use abusive language whenever a misunderstanding ensues. They kick employees and chase them like dogs. What's paining us most is if you have to urinate or defecate you have to do it in the bush, you just close your eyes and assist yourself, why? the Chinese don't allow to share toilets with Africans and they have not shown interest of digging toilets for us any time soon though they have all equipment around", added Mutuku.
A source privy to how Chinese companies' operations disclosed that before commencing construction of any project they drill water and toilets but it remained unclear why they had decided otherwise at Thwake.
Joshua Mutinda, another worker complained of not getting offs to attend to their family matters, and if one fails to show up at work, he is sacked through word of mouth without a warning.
Some of the companies sub-contracted by the main contractor includes: China Civil Engineering Company, China Railway, Sinoma, China Roads and Bridge Company, Perma and Sparrow Business Systems Company among others.
Efforts to seek answers from the main contractor was futile but Sparrow Business Systems manager Timothy Muema said their company had adhered to labour institutions Act (Building and construction industry) on basic wages on hiring.
"For our side we have followed construction rules for unskilled labourers which states that those working within municipalities and other regions should be paid sh. 411", said Muema while showing us how they have been paying them, and remitting their NSSF and NHIF money.
The pay was reportedly within the Kenya subsidiary legislation 2013, with job seekers in the site blamed for inciting workers.
"Outsiders have been paralysing operations in the site. They want to be brokers since among those we are working with have been reporting to work daily but they are ejected by outsiders who access the site though the porous fence and pelt stones at them", he added.
A source said a Collective Bargaining Agreement (CBA) was what the workers were pushing for but it required inputs of a trade union.
The dam's construction has recently been marred with glitches.
In the recent past, a stand-off ensued between the contractor building the dam and the three Ukambani governors on the formula to sharing Sh11 billion worthy of business opportunities arising from the Sh36.9 billion dam which is first phase of the Sh63 billion mega dam. This remains unclear if it was resolved.
However, a month ago, the National Assembly's Committee on Water, Environment and Natural Resources led by Maara MP Kareke Mbiuki toured Thwake dam and noted that the dam was trailing in time and might not be completed before 2022 as planned. He complained of poor resource mobilisation.
If these factors and the striking workers are something to go by, then the dam might take a longer period than the expected 5-years of the phase 1.