Kitui family fails to bury man amid suspicions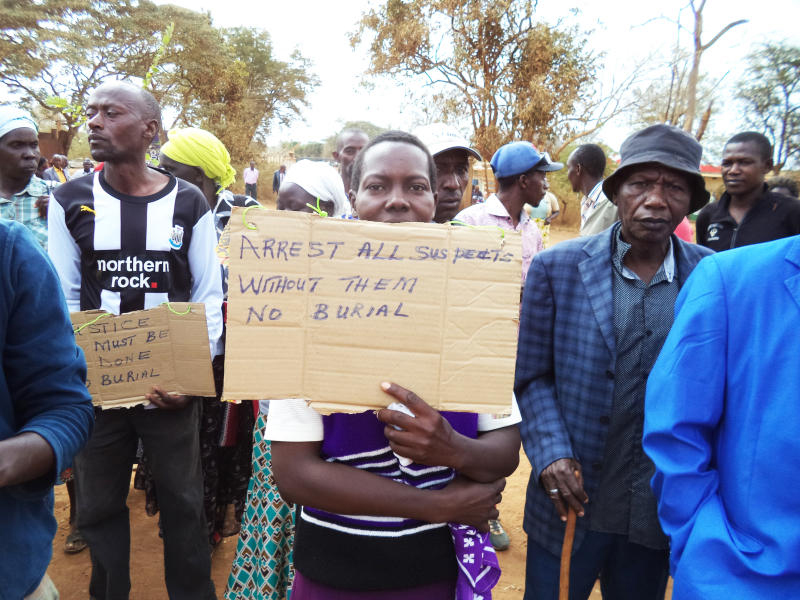 A family in Kitui County cannot bury its head after disagreeing on the circumstances of his death and who the culprits.
A standoff ensued on Tuesday between the deceased Joseph Mutua Mulatya's children and his sisters, uncles and distant relatives over whether or not the body could be removed from mortuary for burial.
Tension gripped Migwani Sub County Hospital's mortuary in Mwingi West when a mob stormed it and stopped the removal of Mulatya's body for burial.
At their home at Kaikungu Village, Nguutani Ward in Mwingi West, the grave was filled up with soil after a section of the family stood its ground that Mulatya would not be buried after all.
The hospital had released the body to the deceased's first son, Mulatya, and his sister Museo.
The mob that included the deceased's relatives had protested at the Migwani Deputy County Commissioner's office accusing police of laxity and failing to investigate the death thoroughly.
Led by family spokespersons, Muthui Ngindu, Masaa Mulatya and Mwikya Ngindu, the protesters told Migwani Assistant County Commissioner Elina Jepumbur Serem that they had no faith in the manner in which the police were handling the death of the 62-year-old-man.
At one moment, the protesters booed Serem when she cautioned the family against jeopardising investigations by relying on rumours and hearsay about the death.
Some family members had found the hospital's Medical Health Officer Christopher Wahinya leaving the hospital's mortuary after conducting an autopsy without their knowledge.
A heated argument arose between the family members, Dr Wahinya and a morgue attendant Kilyungu Mulavuti on the contention on whose authority and orders was the postmortem performed and who had witnessed it.
Amid shouts, Wahinya explained that he performed the postmortem at 8.30am on Tuesday in the presence of the deceased's son Mulatya, daughter Museo and a police officer who represented the OCS.
"I did the postmortem on the deceased's body where it was established that the brain was missing," Dr Wahinya told The Standard outside the mortuary but declined to divulge any further findings.
Family members forced a hearse out of the mortuary and vowed not to allow any burial until Mutua Mulatya's killers were arrested and charged.
An attempt by police led by local Administration police chief Benjamin Achekek to disperse the demonstrators failed.
Mutua Mulatya's body was found on September 13 near his house with severe cuts on the head.
Migwani OCPD Wachira Muu said police were looking for a member of his family to help with investigations.