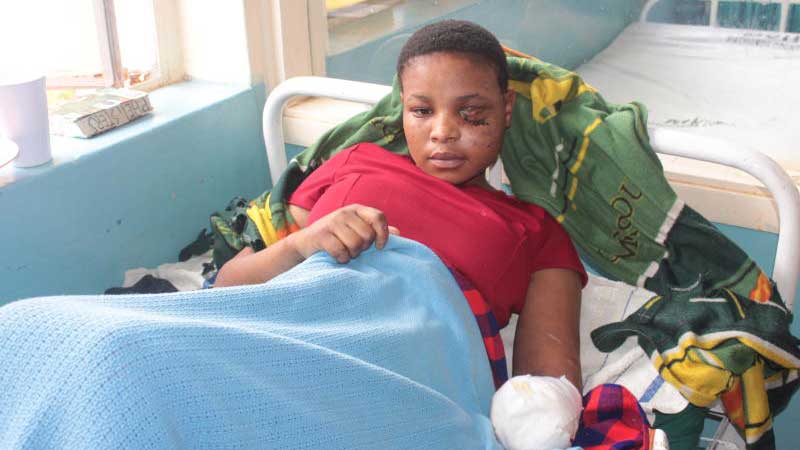 Police have yet to arrest truck drivers who assaulted a woman and abandoned her to be mauled by wild animals in Tsavo National Park.
"We are struggling to bring the woman's attackers to justice because we are unable to trace the specific truck," Kibwezi OCPD Ben Chagulo said yesterday.
He explained that officers were hoping that the victim, 20-year-old Irene Mbithe, would identity those aboard the lorry at the time she was attacked on July 30.
"We hope she can tell us the company that owns the vehicle and probably its number plate once she is in a condition to be interviewed," said Mr Chagulo.
He added: "The Mombasa-Nairobi highway is a busy road that has thousands of vehicles. It is up to the victim to give us hints on the specific vehicle she had requested a lift from."
Read More
It is not clear if the woman will remember anything about the assault because she was unconscious when the police rescued her.
And according to Chagulo, at the time she was found, the officers were concerned with saving her life.
"We were unable to ask her any questions since the woman was unconscious when the officers found her. We rushed her to Makindu sub-county hospital, where she was admitted, and we are glad she is getting well," said the officer.
Ms Mbithe was said to have been thrown out of a moving truck at Tsavo National Park, where she was attacked by wild animals. The truck drivers were said to have kicked her out of the vehicle after she resisted their sexual advances.
She had hiked a lift in the truck from Mombasa to Machakos.
Doctors at Machakos Level Five Hospital, where she was transferred, said Mbithe was responding well to treatment.
"The patient is responding well to medication. We shall be taking her to the theatre at any time so that the amputated limb can be stitched," said Dr Jacks Ngala Nthanga.
Kenyans on social media were dismayed by the attack.
"People should stop hiking lifts from strangers. These criminals should be arrested and jailed, even without trial," said Barsite Boit.
Samuel Muhuthia said: "A word of advice to Kenyans: Don't hike lifts from transits cars, especially those using the Mombasa-Nairobi highway. And if you have to board the vehicles for any reason, please write down their numbers and sent them to your relative just in case something happens to you. I may just save you. I have done this many times."
"Indeed this is a sad story. Whoever these men are, they should seek the girl's forgiveness," wrote DA Oidia. [Additional reporting by James Wanzala]