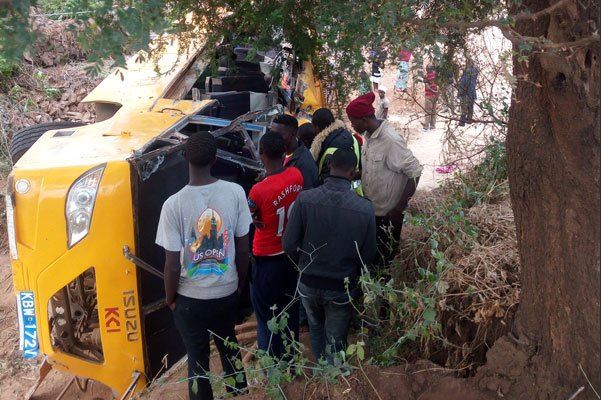 Nine pupils from St Gabriel primary school in Mwingi died on Saturday night while 32 others sustained multiple injuries when their school bus collided head on with a lorry at Kanginga area, about two kilometres from Mwingi town. Following the crash that happened at around 11pm, the school bus lost control, overturned and fell into Kanginga River. Some of the pupils were hurled outside the ill-fated vehicle where some died while others suffered multiple injuries. The injured were immediately rescued and rushed to Mwingi Level Four Hospital, six of them in critical condition. The bodies of the deceased were removed to the hospital's mortuary.
SEE ALSO: Three killed after car hits motorbike outside city hotel
Confirming the accident, Mwingi Central OCPD John Nyamu said that the pupils were travelling in a hired bus belonging to Nguutani Secondary School from a trip in Mombasa. The OCPD said that at the time of the accident, the bus had 44 passengers, among them 40 pupils, three teachers and a matron. Six pupils had been dropped home just before the accident. Two teachers were treated for minor injuries and discharged while the driver of the bus was also admitted at the hospital. The two vehicles collided in a narrow section of the Mwingi - Garissa road that has been undergoing reconstruction. Kitui County Chief Officer in charge of health Richard Muthoka said that efforts were being made to transfer the critically injured pupils to Kenyatta National Hospital. What came as a shocker to many was how the pupils could travel safely about 500km away only to die barely 2km from home.
SEE ALSO: Speeding vehicle kills two people in Kericho
Kitui Governor Charity Ngilu sent a message of condolence to the bereaved families and wished quick recovery to the injured. "I'm deeply shocked by the news that we have lost 8 pupils through fatal road accident. I condole with the families, the entire catholic fraternity and more so the people of Mwingi. I pray God to give the families strength and fortitude to bear the pain of loss. God rest our children's souls in eternal peace," Ngilu posted in a social media forum. St Gabriel Primary School is sponsored by the Catholic Church and is one of the top performing schools in Kitui County. Reports reaching Standard Digital say that Police have arrested the driver of truck that hit St Gabriel School bus near Mwingi Town. The suspect is to be charged with dangerous driving.
SEE ALSO: Two die in Naivasha road accident