Governor Mutua now declares Machakos 'pothole-free'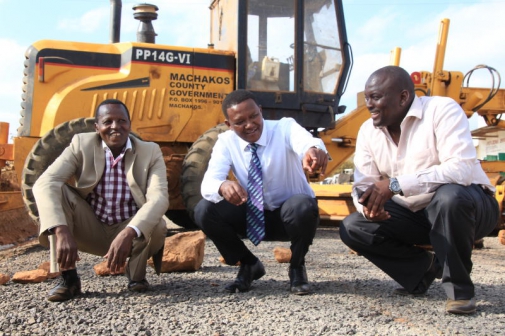 Machakos Governor Alfred Mutua has now claimed that all tarmac roads in the county are free of potholes.
Dr Mutua, who led more than 200 county staff drawn from the Department of Roads and Public Works in a three-week exercise dubbed "maliza potholes, okoa maisha" (end potholes, save lives), termed the initiative a success.
"You can now drive on any tarmac road throughout Machakos County and be sure you won't hit a pothole. I want to assure motorists using major roads in the county that the era of potholes is gone," he said after witnessing the patching up of "the last pothole" on the Machakos-Kangundo road near Mutituni shopping centre.
The governor said the move was aimed at improving road safety by reducing accidents and road fatalities that are associated with potholes.
"Besides saving lives on the roads, the initiative will also guarantee faster and more efficient movement of goods and people to boost trade," he added.
Dr Mutua said majority of road fatalities witnessed throughout the country have been linked to potholes.
"Statistically, Kenyan roads have been rated among the leading in roads fatalities in Africa and our aim is to ensure Machakos will not feature in such statistics," he said.
The governor gave a short code number, 22502, through which residents may send text messages to report any pothole to standby engineers attached to the roads department.
"We are good at building new roads and buildings but very poor at maintaining the same. This is what we endeavor to change in Machakos," said Dr Mutua. He said a pothole on any road within Machakos county will be sealed within 36 hours.