Ukambani counties form bloc to boost trade
Three counties from Ukambani have formed an economic bloc to help boost trade in the region.
This was revealed on Friday when local political leaders, professionals and business people met at the Konza Techno City in Kilome Constituency, Makueni County to chart a way towards the formation of the South Eastern Kenya Economic bloc (SEKEB).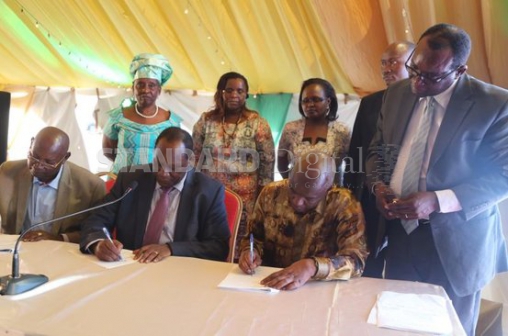 The proposed economic bloc, spearheaded by governors Julius Malombe (Kitui), Alfred Mutua (Machakos) and Kivutha Kibwana (Makueni) was also endorsed by former Vice President Kalonzo Musyoka.
Dr Malombe, who was endorsed the chairperson and the convener of the initiative, said the concept of the SEKEB bloc was intended to pool and leverage on regional resources, county synergies and economies of scale in order to spur trade and investment in the region.
He said it will also broaden, deepen and accelerate socio-economic development, employment and wealth creation for the Ukambani residents and the country at large.
Share concept
"The objective of the inaugural forum is to share the SEKEB concept and objectives with the leadership, business community and professionals. We also want to create markets for our goods and enhance value addition for our products and ensure food security through revamped agriculture," Malombe said.
Prof Kibwana said the three counties made the agreement because they have much in common.
"We want to promote trade and grow wealth for our people for prosperity and solidify the SEKEB identity. We, the three governors, shall remain the midwives of the initiative to maximise utilisation of our resources to benefit our residents," he said.
Machakos county executive member Kioko Luka, who represented Governor Mutua pledged to drive the idea to liberate Ukambani people from the yoke of marginalisation, poverty and despair. The three governers also promised to work towards achieving inclusivity across gender, youth and people living with disability to reflect the diversity of the counties during the implementation of SEKEB.
Other leaders who graced the occasion were Deputy governors Peninah Malonza (Kitui), Adelina Mwau (Makueni), church leaders and a delegation of executive members and the business community.