Tight security as Garissa university attack is remembered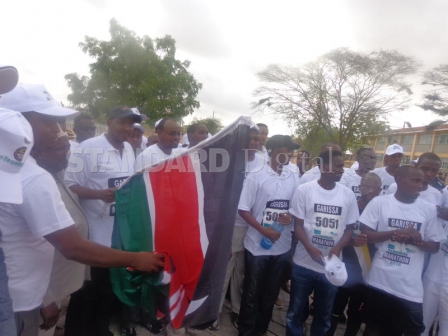 KENYA: Tens of hundreds of people from all walks of life on Saturday converged at Garissa University College in remembrance of 142 students and 6 soldiers killed in April 2 terror attack at the institution.
The event which was to mark the first anniversary of the terror attack attracted people cross the religious spectrum and class and it started with 5 kilometre peace marathon.
Security was tight in and around the university college with those entering being subjected to through frisking and screening by armed security personnel as hundreds turn for the memorial marathon that kicked off at 8 am.
Local political and religious leaders led by Garissa Township member of parliament and leader of majority in the national assembly Aden Duale participated in the 5km marathon which the organisers said was aimed at bringing cohesion and integration between Kenyans of diverse cultures and religions.
Speaking at the function the Garissa Township MP Aden Dualle said the convergence at the university by people of different walk of life was true testimony that they are united against those perpetuating heinous act of terror against Kenyans.
Duale said that the Garissa University attack was his darkest moment adding that the slaughter was not exceptional to Kenya as terror acts could occur anywhere in the globe citing the recent Brussels attack that left scores dead.
The majority leader however appreciated the effort done by the government after the deadly terror attacks noting that the posting of top security chiefs who hails from the region has largely helped in the improvement of security in the region.
"I would like to take this opportunity to thank all Kenyans for standing with Garissa people at their hour of need, this clearly shows that we are united to defeat this menace by the name Al-Shabab, I also appreciate the government because security was boosted and request by leaders to post local security heads to the region was also granted," he said.
The Memorial was also attended by other leaders who included Garissa Governor Nathif Jama, Elias Bare Shill (Fafi), Garissa Woman Representative Shukran Gure and Nominated MP Abdinoor Mohamed among other leaders.
How Raila will lose the 2017 General Election
Raila Odinga is one of the pioneers of democracy in Kenya but his dream to state house is far from reality. This is despite his evident efforts that saw Kanu regime succumb to multi-party system pressure.