Parents of Kyanguli School fire victims awarded Sh40 million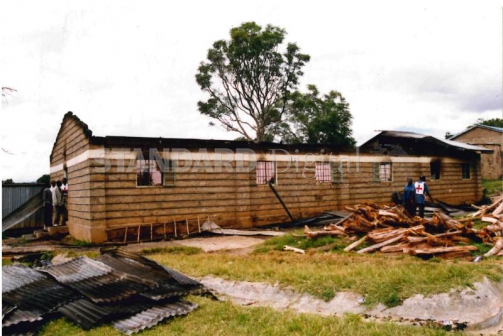 The High Court has awarded Sh40 million to the parents of 63 Kyanguli Secondary School students who perished in a fire tragedy 15 years ago.
Justice Joseph Sergon has ordered the Government to pay the parents after finding that the school was largely to blame for what happened.
The court found head teacher David Mutiso Kiilu and his deputy Stephen Kasyoka liable for failing to act on information that students were planning to torch the school canteen and a dormitory.
"The respondents are largely to blame for the incident that occurred at the school as they had knowledge of the student unrest and what they were planning to do," he ruled.
The parents had sued the Government for compensation over the fire tragedy.
According to the judge, the respondents failed to use reasonable means to prevent the fire incident.
Smell of petrol
The aggrieved parents and guardians had also named the Teachers Service Commission, the Board of Management of Kyanguli Mixed Secondary and the Attorney General as respondents in the compensation suit.
The parents claimed that there was failure to fit, provide and secure fire-fighting equipment for the school and also provide adequate and appropriate access, emergency and exit points in the dormitories.
During the hearing of the petition, Solomon Muteti, a former teacher at the school, testified there were rumours that there was a strong smell of petrol near the dormitory section but the administration, with the help of prefects, searched for it without success.
The deceased students were aged between 14 and 20 years and were all in Form Four.
Some of the parents who attended court were overcome by emotions but welcomed the judgment.
In 2002, a Magistrates' Court found Kiilu and Kasyoka guilty of failing to prevent a felony by not using reasonable means that were at their disposal to prevent the arson.
Events that culminated in the tragic fire had started on March 23, 2001, when leaflets asking the students to boycott the assembly were posted in the school compound.