By Vitalis Kimutai
Invited guests, journalists, university dons and students, film producers, scriptwriters, actors, fashion gurus and marketers started streaming into the hall shortly before 9am.
The over 500 seats in the hall were filling up by the minute. Those who were already seated nodded and thumped their feet to traditional Nigerian music emanating from five giant speakers mounted strategically in the room.
At the podium, was a small table with a black microphone placed at the centre and two chairs.
The setting was the Prestige Plaza Cinamex on Nairobi's Ngong Road where the winner of the 1986 Nobel Prize in Literature, Prof Wole Soyinka was to give a lecture.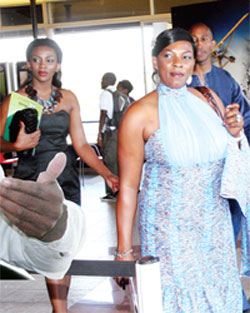 The Nigerian team made up of actress Genevieve Nnaji (left) and Tina Mba arrive for a session during the Sixth Kenya International Film Festival graced by Wole Soyinka at Prestige Plaza Cinemax on October 26. [PHOTO: JONAH ONYANGO/STANDARD]
Read More
The interactive session organised as part of the ongoing Kenya International Film Festival (Kiff) was to last an hour. The arrival of the African Literature giant was, however, delayed for two hours.
But the spirit and expectations of the participants was not dampened.
At 10:55am, Mr Charles Asiba, the Kiff director announced guest had just arrived.
"Sorry to keep you waiting. Prof Soyinka is finally here. Please invite your colleagues who could still be out there to come in and be seated," Asiba's voice boomed through the speakers as the chatter died down and heads turned expectantly towards the entrance.
But it was not until 15 minutes later that Prof Soyinka strode into the hall in the company of Kiff Trust chairman Jim Shoon, Emeka Mba, the Director General of the Nigerian National Censorship and Film Board, and Peter Mutie, the Chief Executive Officer Kenya Films Commission, among others.
The house exploded in applause as the light skinned giant with grey afro hair, clad in a sleeveless jacket, a grey long sleeved shirt, blue pair of trousers, black pair of socks, and black leather shoes walked to the podium.
Soyinka took his seat as the house was called to order.
During the one-hour interactive session that followed, the giant did not disappoint as he gave a short speech and fielded questions from the participants.
His opening remarks: " I am happy to be back in Nairobi. It has been a while since I came around. It is about two years now."
Soyinka's booming voice sounded like that of a military commander, or a warrior. Indeed, he is a commander in his field – and a man who is sure of himself.
Looking every inch an avuncular grandfather, his voice, though reflective of his large body frame, camouflage the 77 years he has clocked and making him sound younger.
His thoughts and ideas have shaped events in the society and changed the world.
Soyinka said amid laughter from the crowd, "I am also happy that this is an informal meeting. Since I was not sure whether it was formal or informal, I had prepared and printed a speech this morning, which I am happy I would not need to read."
Enterprising spirit
He said that it had been difficult for him to come to terms with Nigerian Nollywood movies, as he found it mimicry of Bollywood (Indian) and Hollywood (Western) genres.
"Kenyans may soon be coming up with Kellywood films," he said, causing uproarious laughter.
Soyinka said he changed his point of view of the Nollywood films when he sat next to a gentleman in a plane who had three suitcases full of films while on his way to Rome he said he was taking to a supplier in France.
"The guy told me he makes a trip every week to Rome to deliver several titles of newly shot films and spends two days in Paris buying clothes and merchandise to sell in the Nigerian market," Soyinka said.
He added, " I realised that in the people were producing films and earning a honest living and it was creating employment for hundreds of Nigerians. I though it was a serious business and that is when I put my misgivings about the industry aside."
Soyinka says he had realised in his several trips abroad that there were two sides to the enterprising spirits of the Nigerians – the positive and the negative aspects.
"While in Paris, I came across six Nigerian women in altercation with the local police. The women had been arrested for prostitution and were being kicked out of the country," he said.
The women, he said, were taunting the police asking them why they were taking the drastic measure against them knowing very well that they would be back in less than two weeks.
"They were asking the police if they needed anything that would secure their release. I wondered who to argue for during the encounter and that when I realised there were two sides to the enterprising spirit of the Nigerians," Soyinka stated.
After the lecture, a battery of journalists pursued Soyinka for interview, but his handlers could have none of it. But a journalist from another media house and this writer were allowed in, but alas! He was not in the mood for an interview as he waved his handlers away. They haggled with him for a minute before we were allowed to ask only two questions away from the day's topic.
So we squatted around the brown leather sofa set that the giant was seated on and tried to pick his brains in the shortest time possible.