We're in grave danger of the political tongue ahead of 2022 contest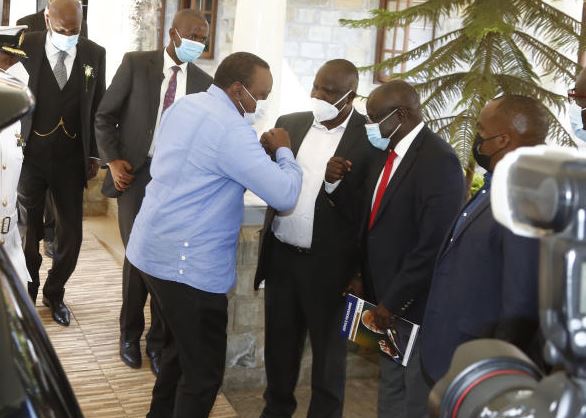 Of the many writers of the New Testament of the Bible, none is perhaps more direct and practical in addressing social issues than James. James speaks unequivocally about pain and suffering, joy and sorrow, the rich and the poor, and social inclusion verses exclusion. James also belabours the point about misplaced and selfish ambition, which he says is a root cause of many quarrels and fights.
"What causes fights and quarrels among you?" James asks. "Do they not come from your desires that battle within you? You want something so bad, but do not get it. You kill and covet, but you cannot have what you want. Therefore, you quarrel and fight." James might as well have been addressing politicians, especially of the Kenyan breed.
Looking at our political scene in the last several years, nothing has driven us as close to the brink of destruction as the pursuit of the selfish ambitions of our leaders. Since the onset of multi-party democracy, our politics have become a do-or-die affair.
Individuals who feel entitled to political positions have ridden roughshod against Kenyans as they pursue their ambitions for leadership. The Kenyan political trail is therefore drenched in the blood and tears of ordinary men, women, and children who have borne the brunt of this selfishness – sometimes paying the ultimate price.
But our politicians remain unperturbed and undeterred – ready and willing to sacrifice more innocent lives at the altar of a vicious power-grab.
When inter-community clashes broke out recently in Kapedo, the government mobilised troops to try and contain the situation. Among the efforts was the disarming of the gun toting groups, encouraging them to surrender their dangerous weapons. What is odd, though, is that no such deliberate disarmament effort has been seen among the politicians. Yet, these men and women are roaming around the country with weapons of mass destruction – their tongues!
James makes very clear that, whereas it takes only a spark to set off a forest fire, the tongue can do worse. "A careless or wrongly placed word out of your mouth can ruin the world, turn harmony to chaos, throw mud on a reputation, send the whole world up in smoke and go up in smoke with it, smoke right from the pit of hell," says James.
Kenyans have watched with dismay as their leaders throw all dignity and decorum to the wind as they use their tongues to ignite dangerous fires. Kisii was the clear demonstration of what careless speeches can do. Emotions ran so high and ambitions so deep that two honourable members of Parliament resorted to the dishonourable as they squared it out with each other in a most pedestrian way – fist fight.
One wonders why such honourable adults should resort to fist fights. Abraham Lincoln made a powerful observation about selling one's ideas in the political arena. "When the conduct of men is designed to be influenced, then persuasion – kind, unassuming persuasion – should always be adopted," said Lincoln.
In other words, the best communicator is one who has learnt the art of persuasion – kind, unassuming persuasion. Therefore, instead of fighting, our leaders should deploy the skill so effectively that they get people to their side. Because, as Lincoln further observed, "a drop of honey catches more flies than a gallon of gall."
But we seem to have a penchant for the gal. We seem to believe that the more insults we throw at each other, the more heroic we shall become. Nothing could be further from the truth. To the contrary, it was similar scuffles in 2007 that led to the serious battles in 2007/8. Several were killed while many were displaced.
I seriously do not know where our leaders dwell, but for those of us in the ordinary trenches of life, we are witnessing a very high sense of anxiety among Kenyans. The tension is tangible, and the memories of 2007 are being rekindled – with serious fears that we could be sliding down the same slippery slope.
Albert Einstein is widely credited with saying, "The definition of insanity is doing the same thing over and over again but expecting different results." It is therefore foolhardy to believe that we can pursue the same narrative as 2007 and yet somehow continue to maintain national peace and cohesion.
It is heartening to hear that some efforts are being made towards taming the negative vibes. New legislation is in the offing to take care of newer forms of incitement. This is all so well, but unless individual leaders take personal responsibility and exercise personal restraint, we will soon be engulfed in fierce fires ignited by our own tongues.