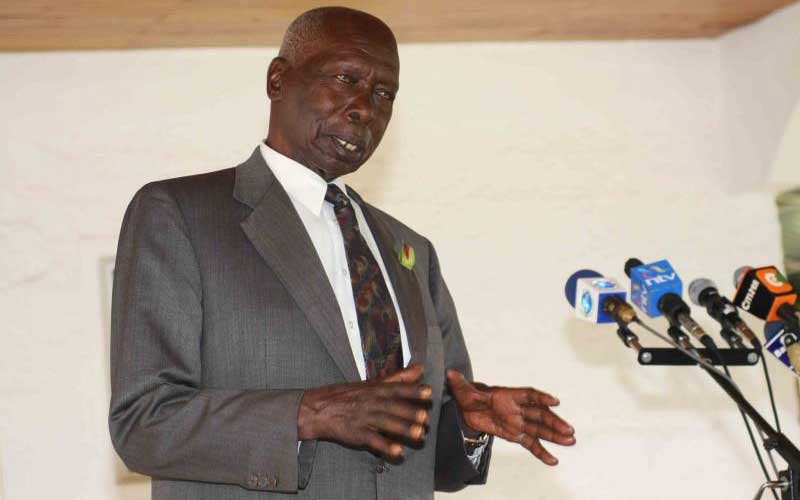 As the nation mourns the late President Moi (pictured), it is clear that his 24-year rule had a significant impact on Kenya and Kenyans. President Moi's leadership was unique in many ways. As many have acknowledged, he possessed the vision of a giraffe and the boldness of a lion. This combination made him an innovative leader not afraid to attempt great things – including development of a Made in Kenya car. Special tribute must therefore be paid to him for the many programmes and projects he initiated during his leadership.
Of course, what stands out in President Moi's leadership was the Nyayo philosophy of love, peace and unity. He was so identified with the Nyayo ideology that it eventually became part of his name – a situation he did not seem to mind. It does appear therefore that the greatest tribute and honour we could accord the late President is to revive and re-establish this philosophy within our national psyche. There is perhaps no greater need in Kenya today than love, peace, and unity.
Whereas love is a most prevalent word, there is perhaps no word that has been more misused and abused. In but a few days, the world is going to be painted red on February 14 in celebration of the Valentine's Day. Drawing its roots from the Catholic church, the day was added to the liturgical calendar around 500AD to commemorate a martyred Roman priest named Valentine. Legend has it that at the time, the Roman Emperor Claudius II had forbidden soldiers from marrying to focus on national duty. However, believing in the importance of love, St Valentine secretly married the soldiers. Unfortunately, Valentine was found out and was executed on February 14 year 270AD. Thus, Valentine demonstrated a unique brand of love – a love ready to sacrifice everything for the sake of others. It was not a mere sentimental feeling that dominates today's frivolous activities of Valentine's Day.
Truth be told, Kenya could do with a little dose of this Valentine love. On August 22, 1979, while speaking at the first anniversary of the death of President Kenyatta, President Moi explained this kind of love by quoting Philippians 2:3, "Let nothing be done through strife or vainglory; but in lowliness of mind let each esteem other better than themselves." Unfortunately, ours is a man-eat-man society. The greed of our leaders in particular, has left the poor poorer. In blatant robbery, national coffers are emptied into private pockets, living the nation to beg and borrow. We desparately need to rekindle sacrificial love if this nation is going to thrive.
Read More
Nothing is more talked about in the world than peace – the second tenet of the Nyayo philosophy. Peace negotiations and treaties are almost a constant agenda in the chambers of the United Nations and other international groupings. President Moi was himself involved in many such peace initiatives in the region. And yet, the more we try to build a peaceful world, the more this objective seems to elude us. Why so? Because peace is rarely enforceable without the concurrence of the parties involved in any kind of conflict. Whether a husband and wife, or nation against nation, a ceasefire will only be obtained when either one or both parties agree to a peaceful solution.
In this nation, we have known little peace in the past several years, primarily due to political competition. Lives have been lost, properties destroyed, and people displaced. Inter-community conflicts have equally been on the rise, especially among the pastoral communities. Family conflicts similarly abound, often resulting in bizarre and senseless murders of family members. These are symptoms of a nation at war with itself. It is time to take deliberate steps to stem the tide. Apostle Paul advised: If it is possible, as far as it depends on you, live at peace with everyone.
Unity was the third pillar of the Nyayo philosophy. In a nation with a rich diversity as ours, unity as a social value demands that we embrace each other irrespective of our ethnic, cultural or religious stock. Unfortunately, this seems to have eluded us. At the height of clamour for multi-party democracy, President Moi warned that the by-product would be ethnic division.
Sadly, his prophecy has been more than fulfilled. We are an extremely divided nation. It will take a unique leader – possibly in the league of Mwalimu Julius Nyerere – to pull us out of this dungeon. That is why, the greatest honour we can accord our late President is to attempt to live out his ideals of Love, Peace, and Unity.
- The writer is the presiding bishop of Christ is the Answer Ministries. [email protected]