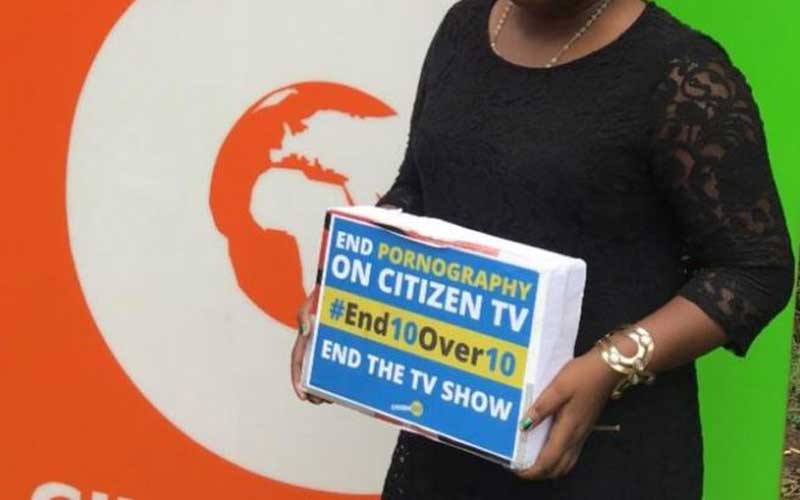 It does appear that Citizen TV needs to live up to its name and harken to the cries of the citizens. An online and offline campaign has been going on for a while now seeking to draw the consideration of Royal Media regarding their programming – which some believe has fallen way below royal levels. Of particular concern has been the "10 over 10" show which has drawn the ire of several viewers. Many have expressed concern that the show, which airs every Friday night hosted by Willis Raburu, parades indecently dressed youth dancing in sexually provocative styles to extremely dirty songs. To these viewers, the show is an irresponsible exploitation of the innocence of young people still at a very impressionable age.
There is no doubt that because of its wide reach, Royal Media Services has a significant presence in many parts of the country. The Kikuyu say that Nd?g? n? makinya (Friendship is footprints) and it is a fact that Citizen has developed a strong footprint in many households as a trusted friend in the media. Unfortunately, this friend seems to have taken off at a tangent and is now running amok. Not too long ago, there was a major outcry against yet another of Citizen's leading lights. A strongly worded editorial by Linus Kaikai about rogue preachers was not taken kindly by a cross section of preachers and the church at large. Whereas many Kenyans agreed with the gist of Kaikai's analysis of the conduct of some of clergy, several took exception to his unsavoury language – which they viewed as rude and condescending. Indeed, in a press statement, some church leaders termed Kaikai's language as "dirty, arrogant, highly disrespectful, derogatory and very provocative." They sought an apology – none was offered.
Whereas in all these cases, Royal Media may simply be exercising its constitutional right to free press, what has been of great concern is the deaf and dumb stance the management has taken towards complaints by the public. This has been especially surprising because at the helm of Royal Media Services is a highly respected media personality. Wachira Waruru, the Group Managing Director is a true royal in the media industry. When the Media Owners Association wanted a chairperson, they unanimously elected Wachira Waruru. With that election in April 2018, there were not only accolades, but also great hopes from across the board – from media owners, practitioners, and of course the consumers.
Having served in several key leadership positions – including as chairman of the Media Council of Kenya – Waruru was seen as a stable hand that would bring on board vast experience in the management of media in a volatile environment. It has therefore come as a great surprise to many that Waruru is now the subject of an intense negative media campaign against the kingdom he oversees. But, by allowing his team to consistently provoke the very people they are supposed to serve, the gold on Waruru's crown could be fast losing lustre.
Read More
React to criticism
There is an adage in business that the customer is king even if they are wrong or ridiculous. Unfortunately, when businesses become successful, they face the danger of drifting into corporate arrogance – the wrong belief that complaining customers are mere irritants. Pete Loughlin observes that corporate arrogance is the disease of highly successful companies. "They are a market leader. They have a significant – perhaps largest market share in their industry. Everyone knows their brand. They recruit the best people and their brand looks great on a CV. They have the confidence to know that they can retain their market share and still win business without having to compete on price." Therein lie perfect ingredients for a huge corporate ego.
Unfortunately, as Loughlin observes, when corporate arrogance hits a company, they become deaf and blind. They do not react to criticism – because they neither care nor take it seriously. They have long forgotten the value of customers, preferring instead the attention of admiring investors. Indeed, Professor Leon van Vuuren of the Ethics Institute of South Africa, similarly concurs. He says that the accompanying danger these organisations pose to society is that "they do not feel bound by the normal rules of the game that give them their social licence to operate. They believe they can do whatever they want." Sad to say but corporate arrogance is a fatal flaw that has brought down many a business. Yet, this is a disease that can hit any of our organisations. That is why Citizen must awake to the cries of the citizens. They cannot destroy our children and yet expect our support.
- The writer is the presiding bishop of Christ is the Answer Ministries. [email protected]