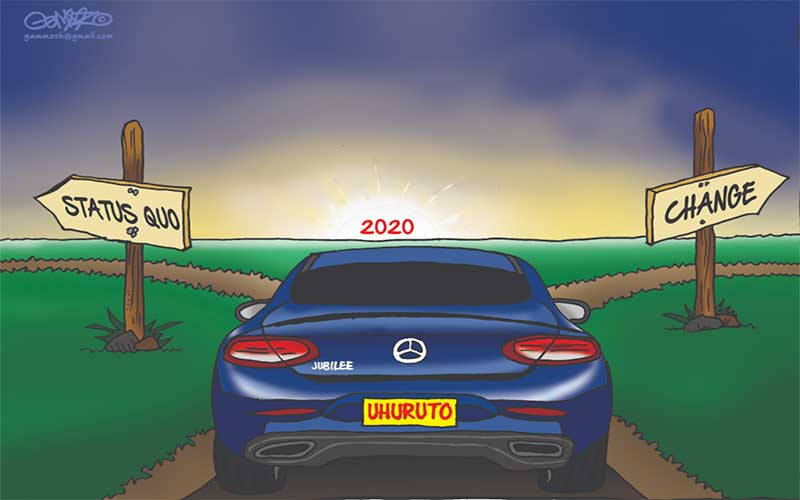 In Kenya, presidential elections are driven by 'objects of aggression'; a thing, person or situation to which collective anger and rejection is directed. The 1992 election was an anti-Moi election; the 1997 election was equally driven by anti-Moi sentiments, culminating in the removal of Kanu from power in 2002. The 2007 election sought to root-out Kikuyu hegemony. The 2013 election was largely driven by anti-ICC sentiments. And in 2017, voter-turnout and behaviour was largely driven by anti-Raila sentiments.
The object of aggression in the 2022 election will either be Uhuru Kenyatta or William Ruto. The new battle between Kenya's current political architects is about who will successfully make the other the 'object of aggression.' Those in government who have worked with Ruto over the past few years are attempting to convince the country that he would make a bad President for Kenya. These are the allies of President Kenyatta. Meanwhile, the Ruto camp is attempting to make Raila the object of aggression.
In an interview with a TV station this past week, former Jubilee Vice Chair David Murathe insinuated that the President had failed to implement a great deal of his development agenda because of the Deputy President's 'nagging' nature. He said the DP behaved like a co-president in term one. He 'hogged' the Presidency, leaving Uhuru no space to govern. In short, the DP implemented a vision completely different from that which the President intended and now, the President is taking back control.
This was made evident to the nation on Tuesday, in the President's fully loaded 'Statement of Intent.' In his address, the President demoted or got rid of some of Ruto's 'allies' in government, while simultaneously renewing his 'pledge' to central Kenya. Uhuru promised central Kenya that he will commit his energy and resources towards rehabilitation of their agricultural sector.
If Uhuru makes good on his word, he will salvage his reputation in Mt Kenya. And if he does so, Ruto's ambitions for 2022 may be forestalled. In central Kenya, Ruto has been welcomed with open arms, but, not necessarily because they love him. It is more likely that they embrace him because they are disgruntled with Uhuru. In other words, they are not pro-Ruto, they are anti-Uhuru. Gema is unbankable as far as support for Ruto, or any other 'outsider' goes. In 2022, they will be in unchartered waters. For the first time, they will have to vote in a poll in which a non-Gema candidate will not be on the presidential ballot.
Ruto, however, stands a better chance of surviving this onslaught if he pursued a different strategy. Rather than be anti-hegemonic, he should attempt a counter-hegemonic strategy. Here is the difference. Anti-hegemonic movements coalesce around a common issue that they are against. The 2002 Rainbow Coalition, for example, was an anti-hegemonic movement. They agreed on nothing else, but the fact that they were anti-Moi. Counter-hegemonic movements, on the other hand, are about a new order, a new beginning. And this is, for example, what the BBI initiative is about. To survive, Ruto should embrace BBI in totality. Even temporarily.
But those attempting to turn Ruto into an object of aggression should recall that when things go wrong, people do not blame the man responsible, they blame the man in charge. People also love to rally behind an under-dog. And this is how Ruto could survive. But the president still has a saving grace: the agricultural and MSME reforms. If these are realised for Gema's peasant farmers and its urban working class in Nairobi, the tide could turn in his favour. Otherwise, he himself remains the political punching bag.
- The writer is a PhD candidate in political economy at SMC University. [email protected]