Embarrassed couple caught making love on the back seat at city parking bay
CRAZY WORLD
By Mirror | January 7th 2016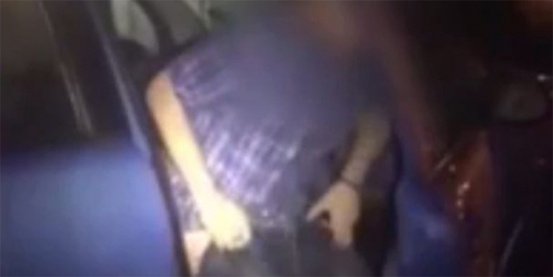 The apparently lusty couple are seen on the back seat of a parked vehicle when the pranksters pull up alongside.
This is the excruciating moment a pair of jokers acting as coppers appear to catch an amorous couple in flagrante.
The apparently lusty twosome are seen on the back seat of a parked car when the pranksters pull up outside the steamy window and shout "Police! S******s! Police!"
The unidentified man filming on a camera phone then demands more than once: "Step out of the vehicle, please," reports the Liverpool Echo .
The man in the car moves to the drivers' seat as the woman is told to remain inside the vehicle.
He winds down his window before getting out of the car while trying to pull up his jeans and protect his modesty.
He is then ordered to turn around and place his hands on the car roof, while the joker asks him to empty his pockets.
The man is twice told to lift his shirt up before being 'allowed' to get inside the car.
Before reversing away, the prankster tells him: "Get back in the vehicle.
"Let's not have any more of that."
The hilarious footage was uploaded to Youtube.
It is not known when or where the footage was taken.