Christmas ghost? Mysterious 'lit-up tree' appears in window of abandoned hospital
CRAZY WORLD
By Mirror | January 1st 2016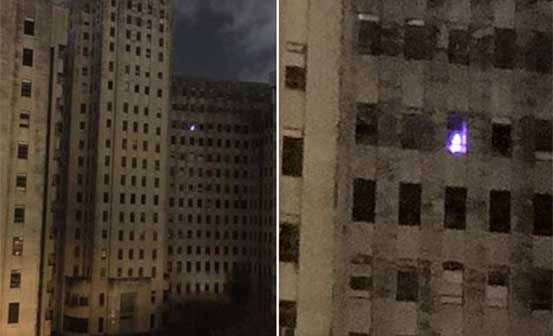 People have been left baffled after a so-called ' Christmas Tree appeared in the window of a hospital which was abandoned 10 years ago.
Eagle-eyed residents took pictures of the apparent ghostly presence and posted on them on social media where they went viral and set tongues wagging at what it could be.
Some believed it to be the work of the paranormal while others even questioned if the images had been doctored.
The lights at the Charity Hospital in New Orleans, Louisiana, which was closed after it was hit by Hurricane Katrina in 2005, were first spotted by Lisa Walley Staggs.
She posted two pictures online on December 27, which have since been shared more than 200,000 times.
She wrote: "For those few of you who may not know...I work at an inner city New Orleans hospital that happens to be situated directly across from Charity hospital.
"Charity hospital has been closed, it's windows darkened, since hurricane Katrina, and is a gloomy and dreary sight on the best of days...at night it's down-right scary. Until tonight.
"See, I park on the roof of my parking garage, and tonight as I was leaving work, I glanced over at the forgotten building, only to see the lights of a tiny Christmas tree!
"I wish the pictures did it justice. I don't know how it's lit. I don't know how it's even in there, but it made me smile just a little bit tonight!"
Another person who spotted the lights was anesthesia technician Mike Arbon, who also works at the same hospital as Lisa.
He told WWLTV: "It's really pretty and little creepy. It gave me chills when I saw it and, of course, made me think of my brother, who passed away at Charity Hospital."
Social media users have shared their opinions on what it could be but police have since put those rumours to bed.
Officers told the broadcaster that the hospital was broken into and someone has wrapped some two-by-four boards with lights and put them by the window.
Leslie Capo, from the Louisiana State University Health Sciences Center, which the hospital was formerly part of, added: "We are treating this as a break-in".
An unconfirmed image has since surfaced on Instagram from a so-called 'urban explorer', who claims to have taken a picture inside the room.
It appears to shows two large floodlights switched on inside the abandoned hospital.
They claim the city runs a generator which still powers lifts and some lights inside.
The explorer wrote on Instagram: "Someone is taking credit for sneaking in and putting a tree in this room, can't personally confirm... photo of the outside of this room is going viral and people think these lights are a ghost Christmas tree.
'The only thing scary about this is how much the City of NOLA spends to keep the power on."
World welcomes New Year despite terror fears
Millions welcomed in the New Year with Champagne and cheers Friday, although tightened security put a damper on festivities in Europe where Germany evacuated stations over an imminent terror threat and a huge hotel fire sparked panic in Dubai.