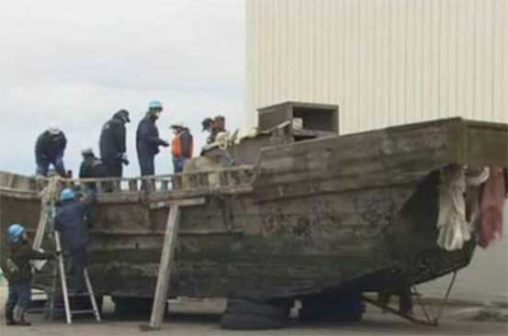 Eleven mysterious 'ghost ships' have been discovered off the coast of Japan with over 20 skeletons on board.
And the riddle baffled the country's coastguard teams who have no idea how they got there.
Four wooden boats first washed up in early November, followed by seven more this week spotted drifting in the Sea of Japan.
Only this time, rescuers were horrified to see the rotting remains of more than a dozen sailors.
Read More
The latest boat, containing three bodies, was spotted on Tuesday off the coast of Fukui port - some 250 miles north of Tokyo.
Rescue teams said the remains were "badly decomposed" and almost "skeleton-like", reports Japan's public broadcaster NHK.
A piece of cloth found on board one of the vessels appears to be part of the North Korean flag.
And writing on another one of the boats is believed to say "Korean People's Army."
But it is not known whether they were stranded North Korean fishermen - or people trying to escape Kim Jong-un's rule.
North Korean uses primitive fishing ships compared to Western countries because they have no radar on board and are difficult to manoevre.
Coastguard staff told NHK that the crews may have been drifting for months without anyone knowing where they were.
Last year it was speculated that a ghost ship crewed only by cannibal rats was headed for Britain.
Lyubov Orlova has been adrift in the North Atlantic for the past year after being cut loose off the coast of Canada.
The 300ft vessel, built 40 years ago in the Soviet Union, has nothing aboard but packs of disease-ridden rodents who are forced to prey on one another to survive.
Coastguards are reportedly worried the recent storms may have driven her thousands of miles towards our own coastline.