Sarit Centre guard shot while attempting to save customer from thugs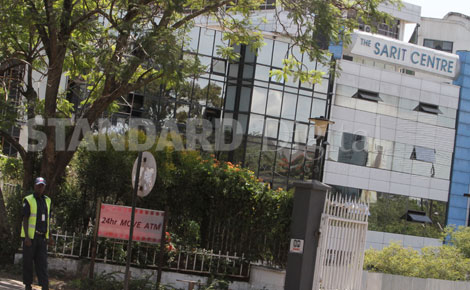 The Sarit Centre in Westlands, Nairobi. [PHOTO: STANDARD]
By CYRUS OMBATI
NAIROBI COUNTY: A guard at the Sarit Centre in Westlands was Sunday morning shot and seriously wounded in an attempted robbery on a customer.
The guard was shot in the back after he tried to block a gang of four from attacking a motorist who was driving into the mall.
Witnesses and police said the motorist was being screened at the entrance when a gang that had been waiting near there struck and tried to force their way into the car.
This prompted the guards at the entrance of the mall to also move in efforts to save him from being attacked, other guards there said.
Police said it was in the process that one of the thugs shot and seriously wounded one of the guards. A bullet exited through the waist in the shooting leaving him on the floor and bleeding.
The thugs later escaped on two motorbikes as the guard was rushed to hospital. No arrest has been made so far.
Witnesses said they suspected the motorist was carrying money which prompted the gang to waylay him at the entrance.
"They must have had known the motorist was coming and we suspect he had money with him at that time," said a witness who is also a security official at the shopping mall.
And following the shooting, the motorist drove into the basement. There are many banks at the mall which operate even on Sundays.
Nairobi area deputy head of police Moses Ombati said efforts to trace the attackers were ongoing.
"They escaped on two motorbikes and we are trying to establish who they were," said Ombati.
Cases of armed robberies have been on the rise leaving police to react to them.
Sections of Nairobi have been experiencing an upsurge of violent crimes including mugging and housebreaking incidents which go unsolved.
Housebreakers target electronic goods and in some areas like Kileleshwa, up to ten incidents are reported weekly, officials say.